Description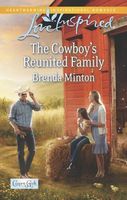 A Wife's Homecoming

Blake Cooper thought he'd never see his daughter again. Then his former wife, Jana Cooper, shows up on his doorstep with Lindsay asking for help. Blake can't deny his ill child anything. But he's struggling to sort out his feelings for the woman who abandoned him ten years ago. Jana's back in Oklahoma for Lindsay's sake, and a second chance with her first love. Somehow she must prove she's no longer a confused young wife, but a woman willing to do anything to reunite her family forever.

Cooper

Creek: Home is where the heart is for this Oklahoma family
Full Synopsis
About the Book
Published:

Feb-2014

Formats:

Print / eBook

Pages:

224

Purchase:
What Readers Are Saying
What do you think? Write your own comment on this book!
Write a Comment

Cooper Creek
Book 8

I wanted to actually give this story four stars, but I cannot do that in good conscience.

I am a mother, and I will say that if my husband (I've never been married and my son's father abandoned him before birth) took my two year old child and fled, there is no way in this world that I would be so forgiving and lovingly welcome him back into my life like this. Jana made me absolutely sick to my stomach for what she did to her daughter and her husband, and throughout the story she made herself a VICTOM!!! I can sort of understand her PPD and initial leaving, but she was gone for ELEVEN YEARS!!! There is absolutely no excuse for what she did! Though some sort of relationship could have formed between the two, I think years of working on the relationship would have been reasonable. I also don't understand why when she chose to move, Blake didn't keep Lindsay with him! That is the least those two deserved!!!

With that said, I loved Lindsay and Blake! My heart broke at what had happened to them over the years. I found myself rooting for father and daughter. Their story was so sweet, and I'm glad that Lindsay's parents got back together, but I cannot understand it...

Like I said, though, because of Jana I could not possibly give this four stars...When Jana started talking about their relationship when their daughter was missing, that was the last straw for me, and I admired Blake for telling her now was not the time to talk about them!!! Poor little Jana...

Not my favorite Cooper book for sure.