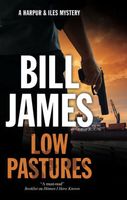 Newest Release
Bibliography:

53 Books - 2 Series

First Book:

January 1985

Latest Book:

March 2022

Rating:
Full Series List in Order
1 - You'd Better Believe It (1985)
2 - The Lolita Man (1986)
3 - Halo Parade (1987)
4 - Protection (1988)
5 - Come Clean (1989)
6 - Take (1990)
7 - Club (1991)
8 - Astride a Grave (1991)
9 - Gospel (1992)
10 - Roses, Roses (1993)
11 - In Good Hands (1994)
12 - The Detective Is Dead (Sep-1995)
13 - Top Banana (Mar-1998)
14 - Lovely Mover (Jun-1999)
15 - Eton Crop (Nov-1999)
16 - Kill Me (May-2000)
17 - Panicking Ralph (May-2001)
18 - Pay Days (Sep-2001)
19 - Naked at the Window (Dec-2002)
20 - The Girl with the Long Back (Mar-2004)
21 - Easy Streets (Jul-2005)
22 - Wolves of Memory (Jul-2006)
23 - The Sixth Man and Other Stories (Oct-2006)
24 - Girls (Sep-2007)
26 - In the Absence of Iles (Jan-2010)
27 - Hotbed (May-2011)
28 - I Am Gold (Dec-2011)
29 - Vacuum (Nov-2011)
29 - Undercover (Oct-2012)
30 - Play Dead (Jun-2013)
31 - Disclosures (Dec-2014)
32 - Blaze Away (Jun-2015)
33 - First Fix Your Alibi (Apr-2016)
34 - Close (May-2017)
35 - Hitmen I Have Known (Oct-2019)
36 - Low Pastures (Mar-2022)
1 - Split (Mar-2002)
Book List in Order:
53

titles
You'd Better Believe It

The first title in the popular Harpur and Iles series.Harpur's domain is a small seaport city south of London. It's not unusual for the big-town criminals to consider such a spot as easy prey. At such times a policeman must rely keenly upon his colle...

---

The Lolita Man

Harpur matches wits with a deadly killer: the "Lolita Man." Five teenage girls have been raped and murdered, and the criminal is still at large. Detective Chief Superintendent Colin Harpur, assigned to the case, is a tough hunter, but so is "the Loli...

---

Halo Parade

"Crackling dialogue and seamy people race a no-holds-barred operation to its wickedly satisfying denouement." —John Coleman, [London] Sunday Times First time in U.S. paperback, the third in Bill James's standout, witty, well above t...

---

Protection

Forced to retire from the department under a cloud of suspicion, Detective Colin Harpur's colleague, Hubert Scott, concocts a scheme that will clear his name--one that is related to the kidnapping of underworld informant Bernard "Tenderness" Mellick'...

---

Come Clean

"Le Carré-like psychological ambiguities and fierce double-crosses―from an author who, in an understated sentence or two, can pack a knockout punch."―Kirkus Reviews

Sarah Iles's latest young lover, Ian Aston, and the seedy gangland club h...

---

Take

Bill James's Come Clean, the fifth novel in his stunning series of British police procedurals, was greeted with unprecedented critical acclaim upon its American publication in 1993. Readers eager for the next in the series will be amply rewarded w...

---

Astride a Grave

A darkly comic mystery in which Chief Supt. Colin Harper hopes to find the missing brains of a bank robbing gang who has gone missing with more than his share of the loot, before the vengeful members of the gang go beyond simply kidnapping their lead...

---

Club

While trying to rescue a posh club owner from a bank-robbing scheme, Colin Harpur must help his boss avoid conviction for murdering his wife's lover, in a sardonic police procedural by a critically praised Welsh writer. IP. ...

---

Gospel

"James's police procedurals are second to none. . . . An entertaining and provocative addition to an impressive series."? Booklist At nineteen years old, Colin Harpur's girlfriend Denise Prior knows little about criminals, and even less about the law...

---

---

Roses, Roses

"Bill James writes a superior brand of police procedural about a steely English detective named Colin Harpur, but he has never written a story as cold, dark and dangerously funny as Roses, Roses." -Marilyn Stasio ? New York Times Book Review-Megan Ha...

---

In Good Hands

Fear Grips The drug underworld after two principals in the trade are murdered, and even A.C.C. Desmond Iles is under a cloud of suspicion. Now the chief players start closing in on a fortune, while Iles, Chief Constable Mark Lane, and Detective Chief...

---

---

---

The Detective Is Dead

No one, including Detective Chief Superintendent Harpur, is willing to testify at the murder trial of three crooks in the drug trade, so the killers go free. Meanwhile, would-be drug kingpin Keith Vine is playing a dangerous double game as an informa...

---

Fancy

in 3rd Culprit (Worldwide)

Crime in all its devious incarnations is presented in this treat of murderous morsels dished out by old ppros and promising newcomers. Artfully crafted and impossible to put down, each story bountifully demooonstrates why these authors are la creme d...

---

Last Enemy

In World War II, teenager Valerie Buck become involved with evacuee Peter, but one day he vanished. Valerie knew what had happened to him, and now 50 years later, the memories obsess her. Retracing her sexual awakenings forces a confrontation of the ...

---

Top Banana

When thirteen-year-old drug runner Mandy Walsh is killed in a shootout between rival drug gangs, the police assume at first that she was accidentally caught in the crossfire. But someone shot her intentionally, and the deeper that DCS Colin Harpur an...

---

Lovely Mover

Rivals A.C.C. Desmond Iles and D.C.I. Colin Harpur are confronted with a murder that threatens to tip the dangerous balance among the drug barons? and the police. It was tragic. There was no other word for it. Eleri ap Vaughan, sixty years old and st...

---

Eton Crop

Stalked by shadowy figures, Simon Pilgrim fled in terror from the floating restaurant Eton Boating Song, where he discreetly sold drugs to well-to-do patrons. Now he's dead, and the police know that the drug syndicates are at war--with the Eton's luc...

---

---

Kill Me

"[A] terrific series. . . . Get these books; settle into peril and chaos."? Bloomsbury Review Naomi Anstruther's undercover operation among the drug gangs, planned carefully by Detective Chief Superintendent Colin Harpur, has ended in a bloody shoot-...

---

Panicking Ralph

"Some of the finest black comedy in contemporary English fiction, criminal or otherwise."―Boston Globe's "New and Recommended"

Ralph Ember, owner of the shady drinking club The Monty, longs to be respectable. The trouble is, his money comes ...

---

Pay Days

Detective Chief Superintendent Colin Harpur and his brilliant, amoral superior ACC Desmond Iles face a dilemma that's both political and personal when they suspect a police officer of taking bribes from underworld criminals Panicking Ralph Ember a...

---

Split

Known for his British procedurals featuring detectives Harpur and Iles, James introduces a new protagonist of mixed black-and-white parentage named Simon Abelard. Recruited into the `Outfit' (British Intelligence) as a token but then rapidly advanced...

---

Double Jeopardy

With the aid of the victim's mother, married Detective Sergeant Kerry Lake investigates her older detective lover's connection to the cover-up of the murder of a young black American woman by two white men....

---

Naked at the Window

The latest dark suspense from "the Elmore Leonard of Britain's underworld" ―Kirkus Reviews.

Big drug dealer Ralph Ember stumbles on a ghastly surprise when he and sidekick Beau Derek arrive at the house of yachtsman Barney Coss, his bulk sup...

---

The Girl with the Long Back

Harpur and Iles are back on the scene, and this time the danger is even closer to home.

With the rumored transfer of Chief of Police Mark Lane, London's competitive drug lords are on edge. In the past, Desmond Iles has managed to maintain the ...

---

---

Easy Streets

"A brilliant combination of almost Jacobean savagery and sexual betrayal with a tart comedy of contemporary manners." ―John Harvey, The Guardian.

For years Colin Harpur's dubious boss, Assistant Chief Constable Desmond Iles, ran a questionab...

---

Wolves of Memory

A large, carefully plotted "cash-in-transit" raid goes hopelessly awry when armed policemen intervene to seize the perpetrators. Relatives and friends of the incarcerated are convinced that information--the date, the time--was leaked by the only man ...

---

---

The Sixth Man and Other Stories

An anthology featuring previously unpublished Harpur and Iles stories.All is not well in the underworld . . . With three entirely new Harpur and Iles stories, three more never before published together, plus a spicy little interlude with some crooks ...

---

Letters from Carthage

A fresh and original take on a mystery within a mystery - Fresh from the inner city, Vince and Kate are new to the suburbia of Tabbett Drive, delighted to have accessed this middle-class paradise. They've even found the neighbours remarkably friendly...

---

Girls

"[Bill James'] strangely compelling series offers its own ample rewards."―Mystery Scene

For years Panicking Ralph Ember and Mansel Shale have run profitable drugs empires in peaceful cooperation with each other, and ACC Iles will blind-eye t...

---

Off-Street Parking

A new mystery from this bestselling author - DC Sharon Mayfield is on routine surveillance when she spots a dead man in a car. The cars locks are sealed with superglue and Claude Huddart's face has been mutilated. As with most murders, there's a puzz...

---

Full of Money

Part social satire, part police procedural, Bill James returns with the stunning prequel to "Tip Top" In the drug-ridden Whitsun and Temperate housing estates a connection, once made, is only ever one thing: trouble.

Trouble for the journalist ...

---

In the Absence of Iles

Assistant Chief Constable Desmond Iles's absence from a police undercover conference sets the stage for the moral and practical dilemmas faced by one of his colleagues, ACC Esther Davidson, as she works to bring down the largest gang operating in her...

---

Hotbed

Who gets hurt when the bad guys cross paths? For years drug baron Ralph Ember has run his crooked enterprises peacefully enough alongside those of his rival, Mansel Shale. Their empires have been tolerated by Assistant Chief Constable Desmond Iles a...

---

World War Two Will Not Take Place

Set during an alternative version of 1938 with Bill James' trademark satirical take on events - England,1938. War looms, but the Prime minister's talks with Hitler in Munich seem to result in a pact of peace. Now Mount, a secret service officer,...

---

Vacuum

After the dreadful business when his son and wife were shot, Mansel Shale has turned to God--leaving DCS Colin Harpur with a potential problem. Instead of keeping a grip on his profitable drugs empire, Shale has abandoned that sphere of commerce, lea...

---

I Am Gold

A woman and her stepson are gunned down while driving to school on a quiet residential street. An former bodyguard kills himself by firing two pistols simultaneously. Was the killer really after the woman's husband, the notorious drug baron Mansel ...

---

---

Undercover

When Harpur and Iles are called in to investigate an undercover investigation gone wrong, they can sense dark, hazardous times ahead... After a gang shooting involving an undercover police officer, Colin Harpur and his boss Assistant Chief Constab...

---

Play Dead

Harpur and Iles may have uncovered corruption, but there are still plenty of unanswered questions . . . An investigation into an incident in another Force led Colin Harpur and his boss, Assistant Chief Constable Desmond Iles, to uncover corruption...

---

---

---

---

Disclosures

Panicking Ralph is a big-time villain -- but he's a local villain -- and when his life is threatened, policemen Harpur and Iles are straight on the case Detective Chief Superintendent Colin Harpur and his boss, Assistant Chief Constable Desmond ...

---

Blaze Away

Policemen Harpur and Iles get mixed up in the criminal world of fine art dealing Detective Chief Superintendent Colin Harpur feels a sort of warmth towards Jack Lamb, a brilliantly prosperous but profoundly dodgy fine arts dealer. Lamb is the grea...

---

First Fix Your Alibi

When a major drugs dealer seeks vengeance for the death of his family, policemen Harpur and Iles must do all they can to prevent a bloodbath Following the murder of his wife and son, tycoon drugs dealer Mansel Shale is determined to get vengeance ...

---

The Principals

This sharply satirical novel concerns a battle royal between two academic institutions and their principals. England, 1987. It's all-out war. Two universities in the same city each aim to destroy the other and take over one another's building...

---

Close

Harpur & Iles to uncover a trail of illegal art trading and money laundering "I found I had a flair for tag-along, street level stealth. It thrilled me. It killed me. Do you mind if I tell you how?" Thomas Wells Hart drifted into a dodgy care...

---

---

Hitmen I Have Known

Assistant Chief Constable Iles finds himself suspected of murder in the fast-paced 35th installment of the popular Harpur and Iles police procedural series. Tensions in the community are mounting following the gruesome deaths of two men, both of w...

---

Big Day Out

Bill James is the alter ego of two South African authors who have drunk together, sold books together, and now finally written a book together. That does not make it a bromance. Despite their having collaborated on a steamy sex scene.Their first book...

---

Low Pastures

A well-dressed corpse found shot in the sand and gravel wharf sparks trouble for Detective Chief Superintendent Colin Harpur and his unpredictable boss, Assistant Chief Constable Iles. The man is found dead in the local dockyard, shot from behind. C...

---

Between Lives

At the same time as she is ghostwriting the autobiography of film star David Gale, Louise Summers is writing a biography of Andrew Pax, a member of the Apostles, executed in 1941 for passing secrets to the Russians. When Gale plays Pax in a film and ...

---
Frequently Asked Questions (FAQ)
Bill James has published 53 books.
Bill James does not have a new book coming out soon. The latest book, Low Pastures, was published in March 2022.
The first book by Bill James, You'd Better Believe It, was published in January 1985.
Yes. Bill James has 2 series.