Description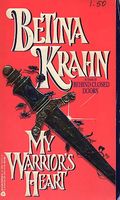 A WARRIOT BRED
She is sensuality incarnate-a stunning, tawny-eyed goddess with the battle skills of a Valkyrie. But though many lust for her, Aaren can have no man...unless he first defeats her in combat.

A LOVER UNEQUALED
He is strikingly handsome and massively strong, a man whose love-making prowess is legend. No woman can resist Jorund's soft words and burning caresses...except for the enchanting warrior-maiden with fire-kissed hair who stirs his manly passions to Viking battle-madness.

MY WARRIOR'S HEART
Sworn to peaceful ways, Jorund's honor forbids him to take up arms against the wild and spirited woman whose breathtaking beauty haunts his dreams. But only by conquering the indomitable Aaren can he win the respect of his people...and quench the searing flames of desire that ravage his body and soul.
Full Synopsis