Description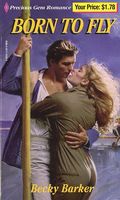 THE HEART SOARS

As a charter pilot for her private family-owned airline, Sharla Prescott had no intention of letting romance come between her and her career. She certainly wasn't about to risk everything on someone as arrogant, stubborn...and irresistibly attractive as U.S. Marshal Reed Connors. He was the only man who'd ever really attracted Sharla--and the only man who was a threat to her hard-earned independence. Then Reed hired her to fly him south on business.

As if things weren't tense enough, a snowstorm forces

Sharla into a dangerous landing in the Smokey Mountains. Seeking refuge in a secluded cabin, she and Reed find themselves cut off from civilization...and drawn to each other with a hungry passion that transcends their differences. By the light of a blazing midnight fire, two icy hearts just might thaw enough to turn a fateful encounter into a union of pure bliss....
Full Synopsis