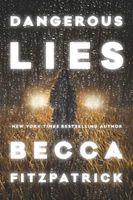 Newest Release
Bibliography:

7 Books - 1 Series

First Book:

October 2009

Latest Book:

November 2015

Rating:
Full Series List in Order
1 - Hush, Hush (Oct-2009)
2 - Crescendo (Oct-2010)
3 - Silence (Oct-2011)
4 - Finale (Oct-2012)
Book List in Order:
7

titles
Hush, Hush

A SACRED OATH, A FALLEN ANGEL, A FORBIDDEN LOVE When Nora and Patch are forced together as lab partners, Nora would rather fall to her death than put up with his elusive answers to her questions, his teasing, and his infuriatingly "handsome face a...

---

TBA

in Kiss Me Deadly

If you can possibly thirst for more mysterious metaphysical accounts of love, Trisha Telep has organized some of the greatest and most thrilling tales of paranormal paramours since The Eternal Kiss. She presents the acclaimed literary talent of thirt...

---

Crescendo

Nora should have known her life was far from perfect. Despite starting a relationship with her guardian angel, Patch (who, title aside, can be described as anything but angelic), and surviving an attempt on her life, things are not looking up. Patch ...

---

Silence

WHEN SILENCE IS ALL THAT'S LEFT. CAN THE TRUTH FINALLY BE HEARD? NORA GREY CAN'T REMEMBER THE PAST five months of her life. After the initial Al shock of waking up in a cemetery and being told that she has been missing for weeks -- with no one kno...

---

Finale

WILL LOVE CONQUER ALL? NOM AND PATCH THOUGHT THEIR TROUBLES were behind than. Hank is gone and they should be able to put his ugly vendetta to rest. Rut in Hank's absence, Nom has become the unwitting head of the Nephilim and must finish what Hank...

---

---

Dangerous Lies

A teen is forced to make a fresh start after witnessing a violent crime--but love and danger find her anyway in this novel from Becca Fitzpatrick. Stella Gordon's life is a lie. She does not belong in Thunder Basin, Nebraska. As the star witn...

---
Award-Winning Books by Becca Fitzpatrick
Hush, Hush
2012 Iowa High School Book Award -- Young Adult
Frequently Asked Questions (FAQ)
Becca Fitzpatrick has published 7 books.
Becca Fitzpatrick does not have a new book coming out soon. The latest book, Dangerous Lies, was published in November 2015.
The first book by Becca Fitzpatrick, Hush, Hush, was published in October 2009.
Yes. Becca Fitzpatrick has 1 series.