Description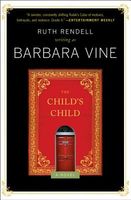 From three-time Edgar Award-winning mystery writer Ruth Rendell, writing here under her Barbara Vine pseudonym, an ingenious novel-within-a-novel about brothers and sisters and the violence lurking behind our society's taboos

When their grandmother dies, Grace and Andrew Easton inherit her sprawling, book-filled London home, Dinmont House. Rather than sell it, the adult siblings move in together, splitting the numerous bedrooms and studies. The arrangement is unusual, but ideal for the affectionate pair -- until the day Andrew brings home a new boyfriend. A devilishly handsome novelist, James Derain resembles Cary Grant, but his strident comments about Grace's doctoral thesis soon puncture the house's idyllic atmosphere. When he and Andrew witness their friend's murder outside a London nightclub, James begins to unravel, and what happens next will change the lives of everyone in the house. Just as turmoil sets in at Dinmont House, Grace escapes into reading a manuscript -- a long-lost novel from 1951 called The Child's Child -- never published because of its frank depictions of an unwed mother and a homosexual relationship. The book is the story of two siblings born a few years after World War One. This brother and sister, John and Maud, mirror the present-day Andrew and Grace: a homosexual brother and a sister carrying an illegitimate child. Acts of violence and sex will reverberate through their stories.

The Child's Child is an enormously clever, brilliantly constructed novel-within-a-novel about family, betrayal, and disgrace. A master of psychological suspense, Ruth Rendell, in her newest work under the pseudonym Barbara Vine, takes us where violence and social taboos collide. She shows how society's treatment of those it once considered undesirable has changed -- and how sometimes it hasn't.
Full Synopsis
What Readers Are Saying
What do you think? Write your own comment on this book!
Write a Comment
I am a long time super fan of Ruth Rendell, especially when she writes as Barbara Vine. I was so excited we were going to get another Barbara Vine novel because it's been a long time since we've had one, but this book was a disappointment. The biggest downfall for me was that I couldn't identify with any of the characters-both past and present. The book is set in two timeframes-present day and the late 19430's and early 1940's. The past part of the book is by far the biggest percentage of this novel, and it is brought out by an old unpublished novel that a present-day woman is asked to read. Grace is the name of the present-day character and she lives with her gay brother Andrew. Their two worlds collide when Andrew brings a new love interest home. As Grace tries to deal with the fallout from the introduction of James to her world, she begins to read an old unpublished manuscript that seems to be a mirror image of her and her brother's life. I think that Ms. Rendell's purpose with this book is to show that though we think our society's attitudes and political acceptances have changed in the last 60 or so years, they really haven't changed that much at all. We are still dealing with the same stigmas and moralality issues even this much later. But the book fell short for me in tension buildup and charactar identification. I just did not like any of these characters and really could have cared less what happened to them. So I am disappointed with this story.