Description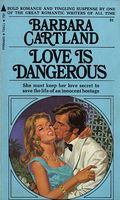 A BESIEGED HEART

Melina threw up her dull but safe job in a solicitor's office and answered an advertisement for a secretary/companion to a rich American. Mrs Schuster was travelling to Morocco and Melina had always wanted to see the country, but her job was short-lived, for when they reached Tangier. Mrs Schuster found herself a more interesting companion of the opposite sex.

Alone in Tangier, love and danger were the last things Melina expected to find. But when a desperate Englishman dressed as an Arab burst into her room begging her to hide him, Melina's life was changed forever, she suddenly finds herself plunged into a fantastic adventure.

Before she quite realized what had happened, Melina herself was disguised as an Arab, stalking the forbidden streets of the exotic Arab quarter... attempting a perilous rescue in a hotbed of intrigue... hazarding her heart to a daring, mysterious stranger, hostage to a love that was dangerous....
Full Synopsis