Description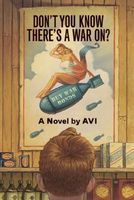 Brooklyn, New York, 1943: a time and place so remarkable that a mere five years later, Howie Crispers, wise at sixteen, can look back to record its fleeting intensity, already long behind him in memory.

In 1943, Howie's pop is in the merchant marine, dodging Nazi U-boat wolf packs an the brutal North Atlantic sea. Denny, Howie's best friend, has a father in the Eighth Army, battling Nazi general Rommel in North Africa. Every day the boys face reminders of war -- scary headlines, blackouts, scrap collections, warstamp drives.

/> Saturday mornings, Denny and Howie both leave their worries and responsibilities behind at the 25-cent kid movies. During the week, they depend on Miss Rolanda Gossim, their teacher. She may be strict, but she's kind and a lot prettier than any movie pinup. She occupies the boys' fantasies and makes the war bearable for Class Five-B at Brooklyn's P.S. 8. When Howie discovers she's about to be fired, he needs to find out why, and -- with the help of Denny and the rest of their class -- he makes plans to keep her on the job.

By turns hilarious, sad, and surprising, Avi's latest tale is a touching story of innocent love and yearning that's rich with authentic Brooklyn voices and poignant memories of the early 1940s -- days when unexpected, even shocking events took place without warning, days when, no matter what happened, you could explain it all with a simple phrase: "Don't you know there's a war on?"
Full Synopsis
About the Book
Published:

Apr-2001

(Hardcover)

Feb-2003

(Paperback)

Formats:

Print / eBook / Audio

Pages:

208

Age Level:

08-12

Purchase: