Description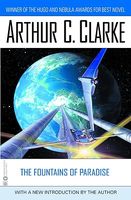 In the 22nd century visionary scientist Vannevar Morgan conceives the most grandiose engineering project of all time, and one which will revolutionize the future of humankind in space: a Space Elevator, 36,000 kilometers high, anchored to an equatorial island in the Indian Ocean.
"An amazing list genuinely the best novels from sixty years of SF." Iain M. Banks
"Delightfully written and at times almost unbearably exciting." Kingsley Amis
"His enthusiasm is combined with his considerable literary and myth-making skills the result is something special." "Sunday Telegraph"
"A superbly crafted novel that may be his best." "Tribune"
"
Full Synopsis
About the Book
Published:

1979

Formats:

Print / eBook / Audio

Pages:

261

Purchase: