Description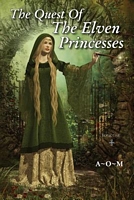 From the stars they come to save a sister planet from a horrible fate; a terrifying alien race that seeks to enslave Earth by taking over the minds of it's inhabitants. Hence begins a remarkable journey that spans several time eras with time traveling and brings to life legendary characters such as Merlin and Count St. Germaine.
This first book in a trilogy takes place in medieval times during the epoch of magical, so-called mythical beings and commences with the formation of the resistance to save Earth by two otherworldly girls who have undergone a mission to save earth. It culminates in an epic battle by Macadamia, a tree deva,  who as the Captain of Ancient Deep fights to save the Kingdom, home of magical beings from Earths antiquity from the Mind Destroyers; aliens who are enslaving whole planets through mind control.
The final two books span time eras and universes as the elves travel forward and backward through time to undo and prevent the greatest catastrophe that has ever confronted the Universe.
Dragons, Halfling's and legends of old come alive in this tale of heroic sacrifice and goodness of  heart fighting evil against almost insurmountable odds.
Full Synopsis
About the Book
Published:

May-2017

Formats:

Print

Pages:

168

Purchase: