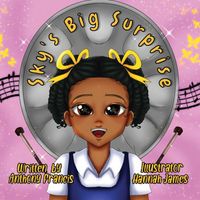 Newest Release
Bibliography:

7 Books - 1 Series

First Book:

March 2010

Latest Book:

April 2022

Rating:
Full Series List in Order
1 - Frost Moon (Mar-2010)
2 - Blood Rock (Aug-2011)
3 - Liquid Fire (May-2015)
Book List in Order:
7

titles
Frost Moon

Her Magic Will Get Under Your Skin.Her Story Will Fill Your ImaginationDakota Frost's Enthralling Saga Begins . . . In an alternate Atlanta where magic is practiced openly, where shapeshifters party at the urban clubs and vampires rule the southern n...

---

---

Liquid Fire

"Thank you to the powers-that-be for the opportunity to be one of the first readers captivated by Dakota Frost and her magical tats. Addictive, sassy, sexy, funny, intense, brilliant." -Bitten By Books, on Frost Moon "With Blood Rock, Anthony Francis...

---

Sibling Rivalry

Artificial intelligence. AI. The spark that brings about the robot apocalypse. In fiction, AIs always have weaknesses: they're vulnerable to logical paradoxes, back door viruses and pesky EMP blasts. Real AIs would have no such comforting limitations...

---

Jeremiah Willstone and the Clockwork Time Machine

From an Epic Award winning author comes a sprawling tale of brass buttons, ray guns, and two-fisted adventure In an alternate empire filled with mechanical men, women scientists, and fantastic contraptions powered by steam, a high ranking officer i...

---

Sky's Big Surprise

Sky's Big SurpriseSky loves school and she also loves learning about new things, but most of all Sky loves surprises. So today was going to be a very special day, as today she would get the chance to do all of the three things she loves to do. Her Fa...

---

3rd September 1995

Second chances don't come by often and no one knows that better than Michael Smith who, after being disgraced is barely making ends meet as a journalist-reporter. That is until Christopher Blake, a wealthy business owner, makes him an offer tha...

---
Frequently Asked Questions (FAQ)
Anthony Francis has published 7 books.
Anthony Francis does not have a new book coming out soon. The latest book, Sky's Big Surprise, was published in April 2022.
The first book by Anthony Francis, Frost Moon, was published in March 2010.
Yes. Anthony Francis has 1 series.