Description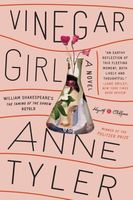 Pulitzer Prize winner and American master Anne Tyler brings us an inspired, witty and irresistible contemporary take on one of Shakespeare's most beloved comedies
 
Kate Battista feels stuck. How did she end up running house and home for her eccentric scientist father and uppity, pretty younger sister Bunny? Plus, she's always in trouble at work -- her pre-school charges adore her, but their parents don't always appreciate her unusual opinions and forthright manner. 

Dr. Battista has other problems. After years out in the academic wilderness, he is on the verge of a breakthrough. His research could help millions. There's only one problem: his brilliant young lab assistant, Pyotr, is about to be deported. And without Pyotr, all would be lost.

When Dr. Battista cooks up an outrageous plan that will enable Pyotr to stay in the country, he's relying -- as usual -- on Kate to help him. Kate is furious: this time he's really asking too much. But will she be able to resist the two men's touchingly ludicrous campaign to bring her around?
Full Synopsis
About the Book
Published:

Jun-2016

(Hardcover)

Mar-2017

(Paperback)

Formats:

Print / eBook / Audio

Pages:

224

Purchase:
What Readers Are Saying
What do you think? Write your own comment on this book!
Write a Comment

"She had always been such a handful – a thorny child, a sullen teenager, a failure as a college student. What was to be done with her? But now they had the answer: marry her off. They would never give her another moment's thought"

Vinegar Girl is the twenty-first novel by American author, Anne Tyler, and is written under the Hogarth Shakespeare banner. It is billed as William Shakespeare's The Taming of the Shrew retold. At twenty-nine, Kate Battista is in a dead-end job she doesn't particularly like, and saddled with looking after her air-head fifteen-year-old sister and her workaholic father. Kate is no shrinking violet though: she lets them know what irritates her in no uncertain terms. Her boss suggests she practice restraint but: "The unsatisfying thing about practicing restraint was that nobody knew you were practicing it"

So when Dr Louis Battista suggests she marry Pyotr Shcherbakov, his brilliant research assistant, whose O-1 visa is about to run out, she lets her father know how she feels: "We are not in another culture, and this is not an arranged marriage. This is human trafficking….You're sending me to live with a stranger, sleep with a stranger, just for your own personal gain"

Pyotr tries to court Kate, despite her irritability, her rudeness and her flat refusal to help. And despite the gross insult she perceives at the suggestion, his enthusiasm, his lack of guile and his straight talking begins to weaken her resolve "…they say you can catch more flies with honey than with vinegar" she tells him. "Yes, they would," Pyotr said, mysteriously. "But why would you want to catch flies, hah? Answer me that, vinegar girl"

Anne Tyler's version of this classic Shakespeare tale is an absolute delight. Her characters are ordinary people with flaws and believable quirks; their dialogue is just as ordinary and everyday; and yet, they are endearing, each in their own way. Her descriptive prose is marvellous: "an unhealthy-looking young man with patchy beige chin whiskers that reminded Kate of lichen". And the tale is filled with humour: the reader will find themselves smiling, chuckling and (at least at the wedding ceremony) laughing out loud. Witty and funny.