Description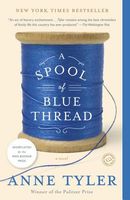 "It was a beautiful, breezy, yellow-and-green afternoon..." This is how Abby Whitshank always begins the story of how she fell in love with Red that day in July 1959. The Whitshanks are one of those families that radiate togetherness: an indefinable, enviable kind of specialness. But they are also like all families, in that the stories they tell themselves reveal only part of the picture. Abby and Red and their four grown children have accumulated not only tender moments, laughter, and celebrations, but also jealousies, disappointments, and carefully guarded secrets. From Red's father and mother, newly arrived in Baltimore in the 1920s, to Abby and Red's grandchildren carrying the family legacy boisterously into the twenty-first century, here are four generations of Whitshanks, their lives unfolding in and around the sprawling, lovingly worn Baltimore house that has always been their anchor.

Brimming with all the insight, humor, and generosity of spirit that are the hallmarks of Anne Tyler's work, A SPOOL OF BLUE THREAD tells a poignant yet unsentimental story in praise of family in all its emotional complexity. It is a novel to cherish.
Full Synopsis
About the Book
Published:

Feb-2015

(Hardcover)

Apr-2016

(Paperback)

Formats:

Print / eBook / Audio

Pages:

304

Purchase:
What Readers Are Saying
What do you think? Write your own comment on this book!
Write a Comment
"There was nothing remarkable about the Whitshanks. None of them was famous. None of them could claim exceptional intelligence. And in looks, they were no more than average…. But like most families, they imagined they were special. They took great pride, for instance, in their fix-it skills… all of them were convinced that they had better taste than the rest of the world…disappointments seemed to escape the family's notice, though. That was another of their quirks: they had a talent for pretending that everything was fine"

A Spool of Blue Thread is the twentieth adult novel by award-winning American author, Anne Tyler. The Whitshank House on Bouton Rd, lovingly, carefully and painstakingly built by Junior Whitshank for Mr. Ernest Brill, was eventually home to Junior, Linnie Mae and their children, Merrick and Redcliffe. Later, Red and Abby brought up their four, Amanda, Jeannie, Denny and Stem, within its walls. It was built for a family and stood the test of time. And here is where the family gathers when Red and Abby begin to cope less well than they always did.

The issue of how to manage ageing parents is something common to most families; after their first solution fails, another is decided upon, but frictions arise between siblings when the (sort of) black sheep turns up to help. Old jealousies and frustrations surface, and in the course of events, certain secrets are revealed. Tyler has a singular talent for taking ordinary people doing ordinary things and keeping the reader enthralled and endeared. Her pace is sedate, her descriptive prose, gorgeous, her dialogue, realistic.

The narrative is split into four parts: the first tells, from multiple perspectives, of present day events in the Whitshank family, with plenty of references to the immediate (and less immediate) past; the second is from Abby's viewpoint, and details the day she fell in love with Red; the third gives Junior's point of view of events surrounding his early encounters with Linnie Mae and the start of their family life; the last, again from several perspectives, describes the present-day leave-taking from the Bouton Rd house.

Another novel that is characteristically Anne Tyler: funny, moving, thought-provoking and, again, quite brilliant.