Description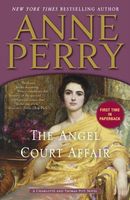 In New York Times bestselling author Anne Perry, the glorious era when Britain reigned supreme has found its most brilliant modern interpreter. Perry's gripping new Charlotte and Thomas Pitt novel invites us back to Victorian London, where greed and ambition never sleep, and passion sometimes runs riot.

As the nineteenth century draws to a close, most of Europe is in political turmoil, and terrorist threats loom large across the continent. Adding to this unrest is the controversial Sofia Delacruz, who has come to London from Spain to preach a revolutionary gospel of love and forgiveness that many consider blasphemous. Thomas Pitt, commander of Special Branch, is charged with protecting Sofia -- and shielding Her Majesty's government from any embarrassment that this woman, as beautiful as she is charismatic, might cause.

When Sofia suddenly vanishes and two of her female disciples are gruesomely murdered, Pitt is challenged as never before. Is Sofia's cousin, wealthy banker Barton Hall, somehow involved? And why has handsome cricket star Dalton Teague insinuated himself into Pitt's investigation? Fearful that this sensational crime may trigger an international incident, Pitt welcomes the help of three allies: his clever wife, Charlotte; her great-aunt, Lady Vespasia; and Victor Narraway, Pitt's friend and former commander at Special Branch. From the narrow streets of Toledo and a lonely monastery high in the hills of Spain, to the halls and wharves of London, Pitt and his friends race against time in their desperate bid to catch a murderer.

Anne Perry is the acknowledged mistress of Victorian intrigue. No one else can match her period flavor, her all-too-human characters, or her haunting truths, which speak so clearly to our own time. The Angel Court Affair may be the best of all the beloved Thomas Pitt novels.
Full Synopsis
About the Book
Published:

Apr-2015

(Hardcover)

Mar-2016

(Paperback)

Formats:

Print / eBook / Audio

Pages:

320

Purchase:
What Readers Are Saying
What do you think? Write your own comment on this book!
Write a Comment

This latest in the Thomas and Charlotte Pitt series is not as wonderful as all the other books in this series have been. I received a galley copy of this book and was so excited to read it in advance of publication because Anne Perry has long been my favourite author, and I love both of her long-running series. Thomas Pitt is charged in this book with trying to keep a particularly controversial woman free from danger. Sofia Delacruz is an ex-pat British citizen who has lived for many years in Spain. She has recently returned to England and has been preaching her new and revolutionary religious ideals to the people in London. She has managed to make many enemies in her life during the course of her ministry, and after delivering one of her talks one night, she and a couple of her followers disappear, Pitt untangles a mess of lies and deceit while he and his team at Special Branch search for the missing woman. He finds himself calling upon his old friends Victor Narraway and Aunt Vespasia to help him try to unravel the truth behind this disappearance. Victor and Vespasia go to Spain to try to determine if something from her Spanish life caused the kidnapping on English soil. At times I felt that Ms. Perry rushed the plot a bit in this book, and the book did not seem to have the usual sense of urgency these books usually have. But still it was a book that I enjoyed and am looking forward to number 31 in the series.