Description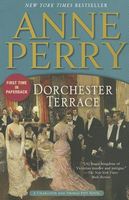 Anne Perry's acclaimed Charlotte and Thomas Pitt novels have made London's exclusive world of wealth and power an addictive literary destination for readers everywhere. This new masterpiece, a haunting story of love and treason, invites us not only into the secret places of Britain's power but also into the innermost sanctums of the fin de siècle Austro-Hungarian Empire.

Thomas Pitt, once a lowly policeman, is now the powerful head of Britain's Special Branch, and some people fear that he may have been promoted beyond his abilities. He, too, feels painful moments of self-doubt, especially as rumors reach him of a plot to blow up connections on the Dover-London rail line -- on which Austrian duke Alois Habsburg is soon to travel to visit his royal English kin.

Why would anyone destroy an entire train to kill one obscure Austrian royal, or are the rumors designed to distract Pitt from an even more devastating plot? He must resolve this riddle at once, before the damage is done.

Meanwhile, in a London sickroom, an old Italian woman -- at the end of a romantic career as a revolutionary spy -- is terrified that as she sinks into dementia, she may divulge secrets that can kill. And a beautiful young Croatian woman, married to a British power broker, hoards her own mysteries. Apparently all roads lead to the Continent, and Pitt suspects that between them these two fascinating women could tell him things he desperately needs to know. But as the hours tick by, it seems that the only woman Pitt can count on is his clever wife, Charlotte.

No one sustains mesmerizing suspense better than Anne Perry. In Pitt's trial by fire, his wrenching moral dilemma, and his electrifying moment of decision, the beloved bestselling author gives us a climax never to be forgotten.
Full Synopsis
About the Book
Published:

Apr-2012

(Hardcover)

Mar-2013

(Paperback)

Formats:

Print / eBook / Audio

Pages:

352

Purchase:
What Readers Are Saying
What do you think? Write your own comment on this book!
Write a Comment

I have long been a fan of Anne Perry and her Thomas and Charlotte Pitt series. I have found that the books keep getting better and better in this series. Ms. Perry's plots are always tight and her characterizations realistic. These remain strong, but I find that the suspense build-up in each book seems to get better and better. This book is a page-turner and one that I couldn't put down. Pitt is now the Commander of Sepcial Branch, when, after the last book where Pitt's boss was forced to resign. Pitt is still plagued by many self doubts and he questions his ability to be a good Commander of such a high profile agency as Special Branch is. I think that's what makes Pitt so likeable and realistic a character. He has a vulnerability that makes him seem very human indeed. This book is set in England in February of 1896. Pitt has been forced to determine whether an assasination will be attempted on a visiting Austrian duke, and if it is true, than he must stop it at all costs in order to avoid a real embarassment for England. At this time in history, all of central and southern Europe were under the rule of the Hapsburgs and their hold on this vast region is beginning to tatter and to show signs of implosion. This is the time in the 20 or so years before World War I where this crumbling empire is trying to reassert its dominance on the Europe stage. But with enemies on every side, the Hapsburg empire is doomed to fail. Pitt gets a taste of what is to come when he sets out with his team to avert a political disaster. This is an excellent turn of the century thriller. Bravo Ms. Perry.