Description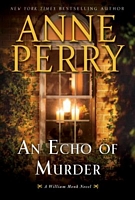 A string of gruesome, ritualistic murders of Hungarian immigrants has Commander Monk of the Thames River Police struggling to solve the puzzle in the latest installment of this New York Times bestselling series.
What Readers Are Saying
What do you think? Write your own comment on this book!
Write a Comment
This 23rd William Monk book is masterfully writtten, and very compelling. The ending blew me away, even though I had figured out who actually was the murderer about 2/3 of the way through. Anne Perry's dialogue and character development are second to none. Not only that, but we find out some really wonderful nuggets of information about Hester's earlier life and about her family. Monk has been called into a particularly brutal murder in London's dock area and in an area where Hungarian immigrants live. The murder is particularly gruesome. And before they Monk and Hooper get very far, another identical murder takes place in the same area. They are trying to catch a particularly sadistic killer and put a stop to the senseless killings. Before the murderer is unmasked Monk, with the help of the intrepid Hester, have to plumb the depths of the murderer's mind and the unresolved past that drives him now, and while doing this, it brings up past unhappy memories for both of them. I loved the pace of the book, and as usual, loved the courtroom scene with Rathbone, but mostly I love Monk and Hester. They are two of the most complex fictional characters that I've encountered.