Description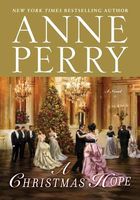 A Christmas Hope is just as delectable -- the gripping story of an unforgettable battle between goodness and evil in Victorian London -- and a lonely woman's search for meaning in her life.

Although she lacks for nothing, Claudine Burroughs dreads the holiday season for forcing her to face how empty her life has become. She no longer expects closeness with her coldly ambitious husband, and she has nothing in common with their circle of wealthy, status-minded friends. The only time she is remotely happy is when she volunteers at a woman's clinic -- a job her husband strongly disapproves of. Then, at a glittering yuletide gala, she meets the charming poet Dai Treggaron and finds her spirits lifted. But scarcely an hour later, the charismatic Dai is enmeshed in a nightmare -- accused of killing a young streetwalker who had been smuggled into the party.

Even though she suspects that an upper-class clique is quickly closing ranks to protect the real killer, Claudine vows to do her utmost for Dai. But it seems that hypocritical London society would rather send an innocent poet to the gallows than expose the shocking truth about one of their own.

Nevertheless, it's the season of miracles and Claudine finally sees a glimmer of hope -- not only for Dai but for a young woman she befriends who is teetering on the brink of a lifetime of unhappiness. Anne Perry's heartwarming new holiday novel is a celebration of courage, faith, and love for all seasons.
Full Synopsis
About the Book
Published:

Formats:

Print / eBook / Audio

Pages:

208

Purchase:
What Readers Are Saying
What do you think? Write your own comment on this book!
Write a Comment

Anne Perry is my favourite author and I continue to read everything she's written. Her annual Christmas stories are a holiday treat for me. Every year I read them and every year I totally enjoy them. It's like being witness to a real Victorian Christmas. Each story focues on a minor character from one of Ms. Perry's two main series. This one focuses on Claudine Burroughs who is a well-to-do woman who works in Hester Monk's clinic for women in need. We are also given the treat of seeing Squeaky Robinson who is Hester's general factotum and a man of dubious talents and a thorough knowledge of the London underground. This book is set around Christmas in 1868. Claudine is an inadvertant observer of the death of an unfortunate young woman in the garden of one of the houses where she and her husband are attending a Christmas party. She is sure that the man that is being accused of the crime is not the perpetrator as he is just one of four men who were close by when it happened. Claudine pushes herself far past her comfort zone in trying to determine the truth of what happened on that late November night. She calls upon the afore-mentioned Squeaky to help her pursue the truth. This ill-matched pair manage to work together very satisfactorily, and an injustice is averted. These Christmas stories are so wonderful with the large dose of nostalgia they offer accompanied by more than a hint of crime that each provides.