Description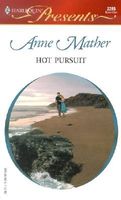 Sara was beautiful, secretive -- and haunted. Matt Seton was both intrigued and annoyed by his unexpected houseguest. She wouldn't tell him where she was from, but he could tell she was running from something.

Common sense warned Matt not to get involved, but then a newspaper article revealed that Sara was in fact the wife of a rich man and missing, feared kidnapped. Matt knew he couldn't abandon Sara; she needed his protection. And as the atmosphere became erotically charged between them, Matt also realized that, though he mustn't

touch Sara, he couldn't let her go....
Full Synopsis