Description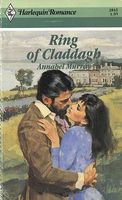 How could she live with a man she had just met!

"Claddagh Hall is left jointly to you and young Fergus, on the condition that you both live here." The words of Noelle's late father's will surprised her. She didn't expect an inheritance, nor did she have any need for it, especially from an Irish lord she had barely known.

And it was abundantly clear that Fergus Carrick, the co-heir, would not welcome sharing something he felt was rightfully his alone.

After all, in the few days that had preceded the reading

of the will, Fergus had seemed greatly disturbed by her presence.
Full Synopsis