Description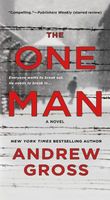 Poland. 1944. Alfred Mendl and his family are brought on a crowded train to a Nazi concentration camp after being caught trying to flee Paris with forged papers. His family is torn away from him on arrival, his life's work burned before his eyes. To the guards, he is just another prisoner, but in fact Mendl―a renowned physicist―holds knowledge that only two people in the world possess. And the other is already at work for the Nazi war machine.

Four thousand miles away, in Washington, DC, Intelligence lieutenant Nathan Blum routinely decodes messages from occupied Poland. Having escaped the Krakow ghetto as a teenager after the Nazis executed his family, Nathan longs to do more for his new country in the war. But never did he expect the proposal he receives from "Wild" Bill Donovan, head of the OSS: to sneak into the most guarded place on earth, a living hell, on a mission to find and escape with one man, the one man the Allies believe can ensure them victory in the war.

Bursting with compelling characters and tense story lines, this historical thriller from New York Times bestseller Andrew Gross is a deeply affecting, unputdownable series of twists and turns through a landscape at times horrifyingly familiar but still completely new and compelling.
Full Synopsis
About the Book
Published:

Aug-2016

(Hardcover)

Jun-2017

(Paperback)

Formats:

Print / eBook / Audio

Pages:

384

Purchase:
What Readers Are Saying
What do you think? Write your own comment on this book!
Write a Comment

This s a top-notch thriller on every level. Gross has created a novel that will endure through the ages, I'm sure. It's probably one of the best fiction novels that I've read on the Holocaust and Auschwitz. It's realistic and visceral. I was fortunate enough to read "By Chance Alone: A Remarlable True Story Of Courage and Survival in Auschwitz" by Max Eisen. Mr. Eisen was an actual prisoner in Auschwitz during the Second World War and he wrote of his experiences while he was a prisoner there. He was the only one to survive from his entire family. When the war is over, he made his way to Canada since. "By Chance Alone" was a non-fiction book. "The One Man" is fiction, but there are very many similarities between Mr. Eisen's true account and Mr. Gross's fictional account of life in Auschwitz. This book is of the suspense thriller genre, and it certainly does belong in that genre. It never let me go from the minute that I started it, until the very end. It is about a young Polish Jew who managed to get out of Poland in 1941. He is lviing in America and has joined the American army. Nathan Blum continues to feel guilty for leaving his family behind when he embarked on his dangerous journey to America in order to save a rare and valuable Jewish text. He is asked by his superiors and the President of the United States himself to embark on a solo mission in order bring out a very important scientist by the name of Albert Mend who is incarcerated in Auschwitzl. In order to do so, Blum has to be snuck into Auschwitz and take up the role of a prisoner for a time in order to find Mendl and get him out and to England. Blum never waivers from his task, even though being in the prison is so difficult mentally and physically. He shows extraordinary bravery and heart trying to complete his very difficult mission. It's all here in this book - the "showers" and the noxious smelling odours coming out of the ovens, the unrelenting work, disease, starvation, and cruelty endured by the prisoners in the prison. Blum experiences it all while he tries to find "the one man" he needs to find in this hellhole of a place. I highly recommend this book, but it is not one for the faint of heart. The book is unrelentless and horrifying. But at the same time there is humour, kindness and understanding displayed by the prisoners in this awful place. This book belongs on my special favourites list for sure.