Description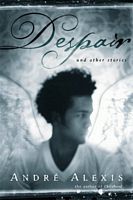 The publication of Andre Alexis's award-winning first novel, Childhood, in 1998, marked the United States debut of one of Canada's most gifted young writers. Now, with Despair, Alexis offers further proof of his brilliance and displays a talent for spinning disturbing but elegant tales.
Emerging from the landscapes and the folklore of Trinidad and Canada, Despair reveals a world both recognizable and shockingly strange: in cities riven by fear and violence, quiet inhabitants lead outwardly banal lives that conceal sinister realities. A failed artist with beautiful hands is driven by a fetish for injuries in "The Third Terrace." While on an excursion to a bakery, a man wrestles with his capacity for evil deeds in "The Metaphysics of Morals." "Horse" centers on the bizarre experiments of a doctor who has rented space in the house of a grieving man. In "The Night Piece," a boy is haunted by a story told to him about a soucouyant, a vampire in the guise of an old woman who has settled nearby.
In eight exquisitely crafted stories, shimmering with malevolence and longing, Andre Alexis has fashioned an underworld and limned it with light.

Full Synopsis
About the Book
Published:

Formats:

Print

Pages:

212

Age Level:

07-12

Purchase: