Description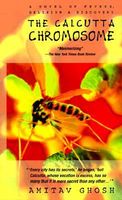 The Calcutta Chromosome is one of those books that's marketed as a mainstream thriller even though it is an excellent science fiction novel (It won the prestigious Arthur C. Clarke Award). The main character is a man named Antar, whose job is to monitor a somewhat finicky computer that sorts through mountains of information. When the computer finds something it can't catalog, it brings the item to Antar's attention. A string of these seemingly random anomalies puts Antar on the trail of a man named Murugan, who disappeared in Calcutta in 1995 while

searching for the truth behind the discovery of the cure for malaria. This search for Murugan leads, in turn, to the discovery of the Calcutta Chromosome, which can shift bits of personality from one person to another. That's when things really get interesting.
Full Synopsis
About the Book
Published:

Oct-1997

(Hardcover)

Jul-1998

(Paperback)

Formats:

Print / Audio

Pages:

320

Purchase:
What Readers Are Saying
What do you think? Write your own comment on this book!
Write a Comment

The Calcutta Chromosome is the third novel by Indian author, Amitav Ghosh. Egyptian-born Antar, an employee of the International Water Council sits working from home in his New York flat, monitoring his computer's processing of a mind-numbingly boring inventory, thinking about a walk to Penn Station and dinner later with his neighbour, Tara. Suddenly, his attention is drawn to a charred ID card with the LifeWatch logo, and he begins to remember an encounter with an eccentric colleague, a man obsessed with a certain malaria pioneer, and intent on going to Calcutta, one L. Murugan. So begins Ghosh's tale of fevers, delirium and discovery, a tale that spans centuries and continents. The story careens back and forth between some unspecified future time in New York, 1995 in Calcutta, 1950 in Alexandria, 1933 in Renupur and the 1890s in Calcutta. The cast of characters includes an archivist, an Armenian nursery owner, an Indian movie star, a revered Indian writer, a journalist, a computer analyst, a Hungarian Countess, a property developer, a syphilitic lab assistant, a babysitter, an American missionary, a Finnish spiritualist and a British Surgeon-Colonel in the India Medical Service. Syphilis, malaria, mosquitos, pigeons and clay images all play a part. This novel has elements of mystery, sci-fi, thriller, history, fantasy and there's even a little ghost story in there. And somehow it all connects up to result in a very different page-turner. Ghosh's characters, especially Murugan, are engaging and readers will find themselves involved in his quest, eager to go along for the ride. Quite extraordinary.