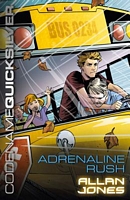 Newest Release
Bibliography:

20 Books - 1 Series

First Book:

August 1998

Latest Book:

February 2015

Rating:
Full Series List in Order
1 - In the Zone (Sep-2014)
2 - The Tyrant King (Sep-2014)
3 - Burning Sky (Nov-2014)
4 - Killchase (Nov-2014)
5 - Adrenaline Rush (Feb-2015)
6 - End Game (Feb-2015)
Book List in Order:
20

titles
---

---

The Phantom Airmen

Lychford Green is an old RAF airbase. It hasn't been used in years, but somehow it still bears the traces of the horrors which took place there 50 years previous. When Regan, Tom, Jack and Frankie investigate the empty airfield for a school project, ...

---

The Wreckers

Cornwall`s violent history comes horrifyingly to life for four kids on holiday in this book. The skeleton of an ancient ship, destroyed by the plundering wreckers of long ago, is thrown up by freak storms. Frankie, Regan, Jack and Tom are eager to in...

---

The Alien Fire File

Beth spots strange lights from her window late at night - glowing green in the distance, then disappearing. She's convinced there's been an alien landing - but Hal saw them too and he's not so sure. Until a midnight encounter sets them both thinking....

---

Time Traveller File

A strange-looking youth gives Beth a fright late at night. Hal is sure he is a criminal on the run and Beth thinks she's seen a ghost. But the boy insists he is from the future - and in serious danger. A series of unexplained break-ins undermine his ...

---

Monks Curse

The skeleton of a 16th-century monk is discovered when an ancient coffin is unearthed in the grounds of Lychford Abbey. With the skeleton is an evil power, temporarily hushed by the secret medieval ritual of bell, book, and candle....

---

---

---

---

Legends of the Golden Elephant

Olivia Christie and Josh Wells are in the middle of one of the greatest archaeological adventures of modern times. They are traveling the world with Olly's father, Professor Christie, searching for the sacred Talismans of the Moon - the keys to the a...

---

The Mole and Beverley Miller

"It's Bev," said Sophie, "She's been knocked off her bike by a car."In a daze Michael allowed himself to be led into the kitchen. He sat at the table, staring out of the window at the wall of the house next door.He relived their parting embrace; he ...

---

The Icegate of Spyre

Was there ever in the whole of the Sundered Lands an island more extraordinary than Spyre? From the swampy, beast-infested jungles at the bottom to the snowy mountain monastery at the top, the place is full of wonders...and dreadful dangers. It is on...

---

Sargasso Skies

Many a windship has foundered on the deadly skyreef known as Sargasso Skies. Our three brave adventurers are on their way to Hammerland, home of the sinister steammoles, to find the fifth lost crown: the Crown of Wood. But now they're trapped, at the...

---

In the Zone

When Zak Archer accidentally witnesses a murder he immediately finds himself in the firing line. Now some very dangerous people want him dead and he is on the run. Luckily, running is something Zak is good at. In fact, when he's 'in the zone' he can ...

---

The Tyrant King

Zak takes on his first mission for a top secret government organization in the second book of this action-adventure spy seriesZak's training is cut short when he is sent on his first mission. The King of Montevisto and his family have been threatened...

---

Burning Sky

Zak is sent on a mission to the US, but the plan goes horribly awry for Zak and his fellow agents when their plane is hijacked. A harrowing flight turns into a desperate bid for survival. Zak is stranded on a desert island and can't tell friend from ...

---

Killchase

Believed guilty of a murder he didn't commit, Zak Archer finds himself both hunter and hunted. Cut off from his fellow agents, he's caught up in a deadly chase and race against time. Can he clear his name before he is captured or killed?The fourth ti...

---

Adrenaline Rush

Zak is undercover as a stunt double on a movie set in Hollywood. His mission is to investigate multi-millionaire Elton Dean who has ties to a terrorist called Raging Moon. But as Zak gets closer to uncovering the truth, it becomes clear his cover has...

---

End Game

Zak and his fellow Project 17 agents are undercover in Greece, working to bring down the boss of an international terrorist organization known as World Serpent. The sixth in this gripping new series. Perfect for young fans of 24....

---

---

Dark Paths

Isenglas Hall has a legend attached to it, as four friends discover when they're invited to help with archaeological excavations. Frankie finds half a coin, the kind that parted lovers would have exchanged. It links her to the spirit of a murdered bo...

---
Frequently Asked Questions (FAQ)
Allan Frewin Jones has published 20 books.
Allan Frewin Jones does not have a new book coming out soon. The latest book, Adrenaline Rush, was published in February 2015.
The first book by Allan Frewin Jones, Meerkat in Trouble, was published in August 1998.
Yes. Allan Frewin Jones has 1 series.