Description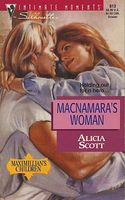 THE SURVIVOR

Ten years ago, Tamara Allistair learned that she had no one to rely upon except herself. Now her existence was threatened again--but this time there was someone to lend her a hand. Her protector? C. J. MacNamara, self-appointed rescuer of downtrodden women ....

Too bad Tamara had decided that "love" was out of her vocabulary. Because with C.J.'s rock-solid appeal and support, maybe she could finally find out what really happened ten years ago--and whether she might not be able to give love a try after all.

MAXIMILLIAN'S CHILDREN: Two brothers and a sister search for the secrets of their father's past--and the love they never thought they'd find!
Full Synopsis