Description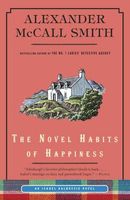 Isabel Dalhousie, the insatiably curious Edinburgh sleuth and philosopher, takes on a case unlike any she's had before: a six-year-old boy has been experiencing vivid recollections of a past life. His visions include a perfect description of a Scottish island and a house where he claims to have lived. The boy's mother asks Isabel to investigate, but her findings continue to perplex as her efforts to seek rational explanations are thwarted by the unusual mystery unfolding before her.

Isabel is presented with further challenges as she begins to prepare an important issue of the Review of Applied Ethics. Two visiting academics, Lettuce and Dove, arrive in Edinburgh with plans that may upset the harmonious balance of her life. These trials will require all of Isabel's wit and understanding—but happily, in her blissful home life with her husband and young son by her side, Isabel is always reminded of her blessings. 
Full Synopsis
About the Book
Published:

Jul-2015

(Hardcover)

Aug-2016

(Paperback)

Formats:

Print / eBook / Audio

Pages:

256

Purchase:
What Readers Are Saying
What do you think? Write your own comment on this book!
Write a Comment

"We might believe that things did not exist because we had no evidence for their existence, but they still existed – in spite of our ignorance"

The Novel Habits of Happiness is the tenth book in the Isabel Dalhousie series by popular British author, Alexander McCall Smith. Editor of the Review of Applied Ethics, Isabel Dalhousie is a busy woman. Her young son, Charlie is now almost four, and a delightful boy developing his own character. Her niece, Cat has started a new relationship, and Isabel is apprehensive about meeting Cat's latest fling. And the intentions of two visitors from London at the Enlightenment Institute are a source of worry for her. Isabel is asked by a good friend to help a concerned mother whose young son is speaking of a previous life. While sceptical of reincarnation, Isabel cannot ignore an appeal, and, surprisingly, finds she has Jamie's blessing, and even his assistance.

This tenth instalment of Edinburgh's favourite philosopher sees Isabel musing on patriotism, aphorisms, a benevolent god, the effects of prayer, meal envy, desk guilt, the titles of paintings, unwelcome thoughts, generalisations, the Loch Ness Monster and the Tooth Fairy. As always, McCall Smith includes plenty of gentle philosophy and an abundance of wisdom: "Scepticism had its place, but we should not lose sight of the possibilities that some beliefs were both necessary and beneficial, a belief in human goodness being a prime example of this…..if one ceased to believe in it then we would lose the comfort of trust"

Isabel continues to appreciate her husband: "And she liked, too, the way he was filled with music; it was there in his mind, and it came out so effortlessly when he sat at the piano or played his bassoon, or when he sang. It was as if there were wells within him, deep wells of music waiting to be drawn upon" and, after some uncharitable thoughts (That, Isabel felt, was one of the great moral challenges: how to think charitably when it was sometimes so entertaining to do otherwise), learns something surprising about Professor Lettuce from an unexpected source,

The reader is treated to some lovely descriptive passages: "This was the North Sea, cold, blue, lapping at the jagged edge of the country, a reminder of where Scotland lay in the true nature of things; a place that was mostly water and wind and high empty sky; a place where the land itself seemed to be an afterthought, a farewell gesture from Europe" is just one example. Isabel's reflections often bring a smile to the face, and her banter with Jamie and Charlie provide some laugh-out-loud moments. A delightful read, as always.