Description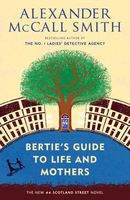 Alexander McCall Smith's wildly popular 44 Scotland Street series chronicles life in a corner of Edinburgh brimming with wit and humor.

Newlywed painter and sometime somnambulist Angus Lordie might be sleepwalking his way into trouble with Animal Welfare when he lets his dog Cyril drink a bit too much lager at the local bar. The longsuffering Bertie, on the cusp of his seventh birthday party, has taken to dreaming about his eighteenth, a time when he will be able to avoid the indignity of unwanted girl attendees and the looming threat

of a gender-neutral doll from his domineering mother Irene. Matthew and Elspeth struggle to care for their triplets, contending with Danish au pairs and dubious dukes to boot, while the narcissistic Bruce faces his greatest challenge yet in the form of an over-eager waxologist. As ever, when Alexander McCall Smith visits 44 Scotland Street, fun is sure to follow.
Full Synopsis
About the Book
Published:

Feb-2015

Formats:

Print / eBook / Audio

Pages:

336

Purchase:
What Readers Are Saying
What do you think? Write your own comment on this book!
Write a Comment

Bertie's Guide to Life and Mothers is the ninth book in the popular 44 Scotland Street series by British author, Alexander McCall Smith. Now almost seven, Bertie Pollock feels like it is years since his last birthday (and readers of this series may well agree, considering The Importance of Being Seven was three books ago). Freedom, for Bertie, is represented by turning eighteen and heading for Glasgow, far from Irene, his domineering mother's control, far from his therapist, Italian lessons, Yoga for Tots, gender-neutral birthday presents and saxophone practice. The likeability of Irene and her husband Stuart appear to be progressing in inverse proportion, so it is no surprise that Stuart, Bertie and even baby Ulysses enthusiastically encourage Irene to accept a free trip to Dubai. A trip that does not go quite the way Irene expects. The irony of Irene's ultimate situation is quite delightful. Domenica and Angus are settling into married life: Angus counts his blessings, even if Domenica has discovered behaviour that leads to the slightly alarming prospect of his seeing a psychiatrist. Their ex-neighbour, Antonia, on a visit from Tuscany with the saintly Sister Maria-Fiore dei Fiori di Montagna, (a mistress of the arresting aphorism), utters authoritatively on auras and haloes. The concept of Cyril's vocabulary is examined and someone gets him drunk. Big Lou makes a major change in her life; Pat Macgregor experiences love at first sight, followed by dislike at first sight; and that well-known narcissist, Bruce experiences a waxing mishap in the pursuit of physical perfection. Matthew and Elspeth, feeling the stress of parenting triplets, engage an au pair for their au pair, a strident your Danish lass with solid opinions. In Irene's absence, Bertie (definitely the star of this series) gets to eat pizza and manages to go on a longed-for scout camp, where he comforts a fearful friend and has a quite unexpected adventure. As usual, McCall Smith's characters share their succinct, insightful and often amusing observations on human behaviour: the rituals we perform to placate the gods; driver aggression; the challenges faced by Scottish nudists. The formula for the value of the pound at different ages is explained, reincarnation and the concept of Karma is explored, the proportions of beauty are mused upon, the obstacles to men having female friends are delved into and Ian Rankin makes a cameo appearance. Animal welfare, nasal hair, sympathetic architecture, Marmite, dessert and desert, original sin and the over-analysis of children's literature all feature. There are many laugh-out-loud moments, and the delightful text is complemented with charming illustrations by Iain McIntosh. As always, the novel ends with a gathering at Domenica's (and Angus's): Angus marks the occasion of Bertie's seventh birthday with a stirring poem. Hilarious in parts, this instalment of the lives of our favourite Edinburgh residents is a wonderful read, as always.