Description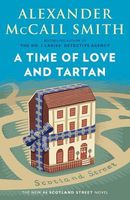 The latest installment of Alexander McCall Smith's perennially popular and irresistibly charming 44 Scotland Street series.

When Pat accepts her narcissistic ex-boyfriend Bruce's invitation for coffee, she has no idea of the complications in her romantic and professional life that will follow. Meanwhile, Matthew, her boss at the art gallery, attracts the attention of the police after a misunderstanding at the local bookstore.

Whether caused by small things such as a cup of coffee and a book, or major events such as Stuart's application for promotion and his wife Irene's decision to pursue a PhD in Aberdeen, change is coming to Scotland Street. But for three seven-year-old boys--Bertie Pollock, Ranald, and Big Lou's foster son, Finlay--it also means getting a glimpse of perfect happiness.

Alexander McCall Smith's delightfully witty, wise and sometimes surreal comedy spirals out in surprising ways in this new installment, but its heart remains where it has always been, at the center of life in Edinburgh's New Town.
Full Synopsis
About the Book
Published:

Feb-2018

Formats:

Print / eBook / Audio

Pages:

304

Purchase:
What Readers Are Saying
What do you think? Write your own comment on this book!
Write a Comment
"'It's good to see you." Bruce inclined his head, as if to acknowledge an act of homage. Of course it was good to see him; he had been good to see for as long as he could remember. Even as a small boy, he had attracted admiration for his looks; the cherub had become an angel, had become a youth from a Giotto painting, had become a matinee idol…"

A Time Of Love And Tartan is the twelfth book in the popular 44 Scotland Street serial novel by Scottish author, Alexander McCall Smith, and in it, the lives of the residents of 44 Scotland Street and those of their friends are, once again, updated for the continuing enjoyment of series fans. So this time we learn that: Domenica wonders about her marriage to Angus; Cyril experiences a tiny pang of jealousy; and Pat Macgregor finds herself again in the sights of the narcissistic Bruce, but for the wrong reasons.

Big changes are afoot in the Pollock household: Stuart makes a life-changing decision on the spur of the moment; he worries more than he apparently needs to about Bertie's reaction to Irene's latest grand plan; Bertie, still seven, delights in receiving a compass; and his happiness at attending a Scotland/New Zealand Rugby Match, in a kilt, with his father, and his best friend, Ranald Braveheart Macpherson, knows no bounds.

Matthew does something silly in a bookshop, is embarrassed and compounds the error with something still sillier, attracting the attention of the police; Elspeth, au-pairless, is at her wits end with exhaustion until the Duke of Johannesburg comes to the rescue. Meanwhile, Big Lou is finding foster-parenthood gratifying.

As always, McCall Smith gives his characters plenty of wise words as he lets them wonder about or discuss a wide range of topics including: the various meanings of the word "Aye"; the modern trends in architecture; sexism and political correctness in job interviews; the proliferation of hate; and the disappearance of forest habitats of remote tribes.

There are plenty of laugh-out-loud moments, and charming little observations like: "…he was on the committee of the Scottish Artists' Benevolent Association, the body that distributed largesse (smallesse, as Angus called it, in view of the limited nature of the fund) to struggling artists".

The potential for young Bertie's ongoing happiness expands exponentially with Irene's Aberdeen plans, although a fan of the series might worry about the absence of the character we all love to despise. McCall Smith's work is always a joy to read, and fans will hope for many more instalments of this delightful series.