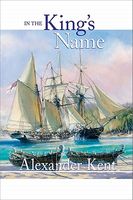 Newest Release
Bibliography:

30 Books - 1 Series

First Book:

January 1968

Latest Book:

February 2011

Author Rating:
Full Series List in Order
1 - Richard Bolitho, Midshipman (1975)
2 - Midshipman Bolitho and the Avenger (1978)
3 - Band of Brothers (2006)
4 - Stand into Danger (1980)
5 - In Gallant Company (Nov-1977)
6 - Sloop of War (1974)
7 - To Glory We Steer (1968)
8 - Command a King's Ship (1973)
9 - Passage to Mutiny (1976)
10 - With All Dispatch (Apr-1989)
11 - Form Line of Battle! (1969)
12 - Enemy in Sight! (1970)
13 - The Flag Captain (1971)
14 - Signal--Close Action (1974)
15 - The Inshore Squadron (1979)
16 - A Tradition of Victory (Mar-1982)
17 - Success to the Brave (Dec-1983)
18 - Colours Aloft (Jul-1986)
19 - Honor This Day (Apr-1988)
20 - The Only Victor (1990)
21 - Beyond the Reef (1992)
22 - The Darkening Sea (1993)
23 - For My Country's Freedom (1995)
24 - Cross of St. George (1996)
25 - Sword of Honour (1998)
26 - Second to None (1999)
27 - Relentless Pursuit (2001)
28 - Man of War (2002)
29 - Heart of Oak (Apr-2008)
30 - In the King's Name (Feb-2011)
Book List in Order:
30

titles
To Glory We Steer

The year is 1782. England is fighting for her life in the bloodstained waters of the Caribbean as the frigate Phalarope plunges through shot and shell to join her hard-pressed squadron. Hemmed in by enemy ships, Captain Richard Bolitho finds that...

---

Form Line of Battle!

This panoramic novel sweeps you into a dramatic period of naval history, as Britain fights the rising power of Revolutionary France. The year is 1793 and the setting is the Mediterranean. Captain Richard Bolitho of the Royal Navy is given command of ...

---

Enemy in Sight!

It's 1794, and England has been at battle with Revolutionary France for almost two years as this sweeping yarn of the sea begins. Captain Richard Bolitho sets sail in the Hyperion with his untrained and undermanned crew for blockade duty off France. ...

---

The Flag Captain

In the spring of 1797 Captain Richard Bolitho brought his ship, the 100-gun Euryalus, home to Falmouth. But soon the flagship was pressed into battle, part of a hastily formed squadron chosen to force the first British reentry into the Mediterranean,...

---

Command a King's Ship

In 1784, at a time when most of the fleet was laid up, His Majesty's frigate Undine weighed anchor at spithead to begin a voyage to India. As her new captain, Richard Bolitho was glad to go, despite the nature of his orders and the immensity of the...

---

Signal--Close Action

The year is 1798. Napoleon's naval forces are amassing in the Mediterranean, preparing to annex Egypt, and it is there the newly promoted Commodore Richard Bolitho is sent with a small squadron of ships under his command. Alone in friendless waters, ...

---

Sloop of War

APRIL 1778, ENGLISH HARBOUR, ANTIGUA As the French enter the American War of Independence in earnest, young Richard Bolitho is given his first command: Sparrow -- a fast, well-armed fighting sloop. At last he has the chance to prove his abilit...

---

Richard Bolitho, Midshipman

Richard Bolitho - Midshipman

October 1772, Portsmouth. Sixteen-year-old Richard Bolitho waits to join the Gorgon, ordered to sail to the west coast of Africa and to destroy those who challenge the King''s Navy. For Bolitho, and for many of ...

---

Passage to Mutiny

In 1789, Europe was once again on the verge of war. Under orders from the governor of the young colony of New South Wales, Captain Richard I3olitho takes his frigate Tempest into the perilous waters of' the Great South Sea. His mission: to protect --...

---

---

In Gallant Company

"WARS ARE NOT FOUGHT WITH HIGH PHRASES. THEY ARE FOUGHT WITH POWDER AND SHOT, CUTLASS AND CANNON, STOUT SHIPS AND GALLANT MEN..." Fighting from the blood-reddened deck of a great ship-of-the-line--boarding privateers from a launch in an offshore f...

---

---

The Inshore Squadron

"Ship cleared for action, sir!" The year is 1800. The fate of nations hangs in the balance as six British merchantmen lie captured by the Russians in neutral Baltic waters. Unless Rear-Admiral Richard Bolitho can win this deadly gamble and free th...

---

Stand into Danger

A historical sea novel in which Richard Bolitho, newly appointed Third Lieutenant on the 28-gun frigate Destiny, learns to accept his new responsibilities as a King's officer as the company face the hazards of conspiracy, treason and piracy whilst on...

---

A Tradition of Victory

The year is 1801. After eight years of conflict, rumors of peace between Britain and France abound. But in the treacherous Bay of Biscay the harsh reality is war. Rear-admiral Richard Bolitho's small squadron is still repairing the scars of battle...

---

Success to the Brave

It is the spring of 1802. The Peace Treaty of Amiens, signed only a few weeks earlier, is already showing signs of collapse as Britain and France wrangle over the return of colonial possessions won and lost during their long, bloody war. In the li...

---

Colours Aloft

The year is 1803. The ship is the Argonaute, a prize plundered from France. Its captain, Vice-Admiral Sir Richard Bolitho, must sail through dangerous waters toward a final battle with the Argonaute's former captain, Admiral Jobert. Sailing with an i...

---

Honor This Day

Antigua, 1804. Once again Vice-Admiral Sir Richard Bolitho is aboard his beloved, battle-scarred ship Hyperion. And on this mission, death stalks him more closely than ever. In his aging vessel, he intends to brave the guns of French and Spanish defe...

---

With All Dispatch

It is 1792, over ten years after Britain's defeat by the American colonies, and that bitter humiliation still sticks in the Admiralty's craw. Now brutal smugglers, many of them naval deserters, occupy the Channel, plying their trade between England a...

---

The Only Victor

February 1806: Vice-Admiral Sir Richard Bolitho carries the news of Trafalgar to southern Africa, where he is to aid British ground forces in any way he can to retake Cape Town from the Dutch. Impatient to be home, Bolitho decides yet again tha...

---

---

Beyond the Reef

March 1806: Napoleon holds Portugal and threatens his old ally Spain. Vice-Admiral Sir Richard Bolitho is dispatched once more to the Cape of Good Hope to establish a permanent naval force....

---

The Darkening Sea

Soon after taking part in the dramatic capture of Martinique in the Caribbean, Vice-Admiral Sir Richard Bolitho is next despatched to the African coast to gather a flotilla and stop French attacks on British trade routes. But Bolitho must contend wit...

---

For My Country's Freedom

War with Britain's former colony looms on the horizon, and Admiral Sir Richard Bolitho must lead a squadron against the powerful new ships of the United States navy. Supported by his loyal crew, Bolitho must use all his ingenuity to defeat one of Ame...

---

Cross of St. George

It is February 1813. With convoys from Canada and the Caribbean falling victim to American privateers, Sir Richard Bolitho returns to Halifax to pursue a war he knows will not be won, but which neither Britain nor the United States can afford to lose...

---

Sword of Honour

Sir Richard Bolitho returns from a wearing campaign in North American waters to take up a command in Malta. As England's long war with Napoleon reaches its end, will Richard Bolitho's longing for peace -- both public and personal -- be fulfilled?...

---

Second to None

In the days immediately following Waterloo, the British fleet confronts a new threat: Algerian pirates preying on hapless merchant ships. Adam Bolitho, Admiral Richard Bolitho's nephew and heir, finds himself in command of Unrivalled, a new kin...

---

Relentless Pursuit

Summoned to the Admiralty by Sir Edward Pellew, Captain Adam Bolitho is ordered to sail his 46-gun frigate Unrivalled into African waters to aid His Majesty's campaign against slave-runners. Preoccupied with avenging his uncle Richard's death w...

---

Man of War

In 1817 every harbor and estuary in Antigua is filled with ghostly ships, superfluous in the aftermath of war. In this uneasy peace, Adam Bolitho is offered the 74-gun Athena, a notoriously "unlucky" ship, and as flag-captain to Vice-Admiral Sir Grah...

---

Band of Brothers

The 26th, and final, Bolitho novel in this phenomenally successful and well-loved series.

In this, the long-awaited conclusion of Alexander Kent's midshipman trilogy, the new year of 1774 seems to offer Richard Bolitho and his friend Martyn ...

---

Heart of Oak

The new Bolitho novel from the greatest living writer of naval fiction.

It is February 1818, and Adam Bolitho longs for marriage and a safe personal harbour. But with so much of Britain's fleet redundant, he knows he is fortunate to be offer...

---

---

In the King's Name

Filled with high-seas intrigue and sharp tensions, this nautical novel takes an intense voyage into the heart of Napoleonic-era Africa. The year is 1819 and Captain Adam Bolitho has been sent on an urgent but risky mission to make a fast passage from...

---
Frequently Asked Questions (FAQ)
Alexander Kent has published 30 books.
Alexander Kent does not have a new book coming out soon. The latest book, In the King's Name, was published in February 2011.
The first book by Alexander Kent, To Glory We Steer, was published in January 1968.
Yes. Alexander Kent has 1 series.