Description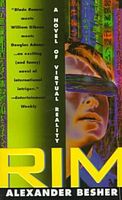 Welcome to the World of Rim. The year is 2027. Greenspace patrols the cosmos, Gamespace has been infiltrated by Tibetan zombies and tantric viruses, and the information superhighway forces lanes through our brains. And while everyone loves the interactive sushi and the way virtual reality can unite Tai Chi students with their long-dead masters, neural technology can also go haywire - with potentially deadly, but relentlessly entertaining, consequences.
Forget Word Processing. This is the world of consciousness processing. A mere sideline of professor

Frank Gobi, the downloading of human psyches becomes one lucrative hobby when he's recruited by the Satori Corporation. Satori, the world's largest - and creepiest - multinational, knows that Gobi is the only one who can track down their missing CEO, retrieve the missing algorithm that will bring their crashed virtual reality metropolis back on line, and end their public relations - and public health - nightmare. Gobi knows he's the only one who might be able to save his son (handle: The Kundalini Kid), one of thousands of Satori customers trapped on line in a game that's become just a little too real.
Full Synopsis
About the Book
Published:

Sep-1994

Formats:

Print

Pages:

357

Purchase: