Description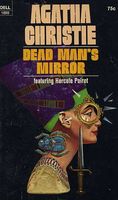 Three On A Match
...is never lucky, especially when Hercule Poirot is involved. And this time the indomitable master sleuth is involved with a terrifying trio of deaths. There is the bizarre aristocrat found dead in the locked study of his isolated manor...the unfathomable demise of a young woman in the bedroom of her London flat...and for a chillingly fine finale, there is an ingenious last curtain call for the most exquisite of victims.

But for the incomparable Poirot, whose magnificent detective skill remains unparalleled,

to solve one is to solve them all.
Full Synopsis