Description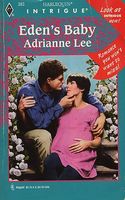 Silence could be a woman's best friend...

When lovely Eden Prescott pledged her heart and soul to Dr. David Coulter, his arms had seemed the safest place on earth. But slowly Eden came to realize that David's loving embrace was also dangerous. Because in the past a deeply disturbed woman had once killed for David's love...

David was everything a woman could want, though - open and honest and kind. But when Eden discovered she was pregnant, could she really turn to the father of her child? Or would that make them all

- her David and their baby - mere pawns in the game of a jealous stalker?
Full Synopsis