Description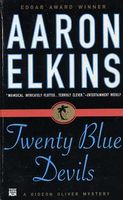 REMAINS OF THE COFFEE MAN

Gideon Oliver, the Skeleton Detective, is in Tahiti for a case that is not exactly his cup of... well, tea. After two close calls, an "accident" has killed the manager of the Paradise Coffee plantation. producer of the world's most expensive coffee bean: the winey, luscious Blue Devil. The manager's grisly remains were hastily buried, and FBI agent John Lau suspects murder. But Lau needs evidence, and he's hoping top forensic anthropologist Gideon Oliver can dig it up. The local police have refused an exhumation

order, and Gideon must use some real skullduggery to examine this corpse. What waits for him will prove the ultimate test of his skills: a subtle clue that points to foul play and bones so puzzling they may have even Gideon stumped...
Full Synopsis