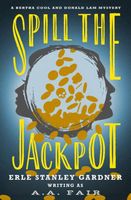 Newest Release
Bibliography:

29 Books - 1 Series

First Book:

January 1939

Latest Book:

June 2006

Rating:
Full Series List in Order
1 - The Bigger They Come (1939)
2 - Turn On The Heat (Jan-1940)
3 - Gold Comes In Bricks (May-1986)
4 - Spill the Jackpot (Feb-2006)
5 - Double or Quits (1941)
6 - Owls Don't Blink (Oct-1985)
7 - Bats Fly at Dusk (1942)
8 - Cats Prowl at Night (1943)
9 - Give'em the Ax (Jan-2000)
10 - Crows Can't Count (1946)
11 - Fools Die on Friday (Apr-2004)
12 - Bedrooms Have Windows (1949)
13 - Top of the Heap (Jun-2003)
14 - Some Women Won't Wait (Mar-2003)
15 - Beware the Curves (1956)
16 - You Can Die Laughing (Mar-1990)
17 - Some Slips Don't Show (Jun-1992)
18 - The Count of Nine (Jul-1999)
19 - Pass the Gravy (Jun-2006)
20 - Kept Women Can't Quit (Mar-1994)
21 - Bachelors Get Lonely (Oct-1992)
22 - Shills Can't Cash Chips (Jan-2006)
23 - Try Anything Once (Mar-1986)
24 - Fish or Cut Bait (Aug-1990)
25 - Up for Grabs (Oct-1997)
26 - Cut Thin to Win (1965)
27 - Widows Wear Weeds (Jun-2001)
28 - Traps Need Fresh Bait (Jan-1993)
29 - All Grass Isn't Green (Dec-1989)
Book List in Order:
29

titles
The Bigger They Come

"I KNOW ALL ABOUT YOUR TROUBLE," Bertha Cool said to Donald Lam. "You were disbarred for violating professional ethics." "I wasn't disbarred," Donald answered, "and I didn't violate professional ethics. I just talked too much." "About what?" ...

---

Turn On The Heat

Nothing Burns Hotter Than an Old Flame... COOL AND LAM RETURN--IN THE CASE OF A LIFETIME Erle Stanley Gardner was not just the creator of Perry Mason--at the time of his death, he was the best-selling American author of all time, with hundreds ...

---

Double or Quits

Dr. Hilton Devarest was a whiz at curing patients, but his private life was sick, sick, sick. He lived with a wife who was as warped as she was repulsive, a secretary who enjoyed fun and games with the doctor every morning before breakfast, a niece w...

---

Bats Fly at Dusk

Private detective Bertha Cool is hired by a blind man to find a girl hit by a car, a young woman who had been employed by the wealthy, eccentric Harlow Milders, who had recently died under suspicious circumstances...

---

Cats Prowl at Night

PERSONAL PRIVATE CONFIDENTIAL These are the ominous words on the mysterious letters Mrs. Everett Belder received from an unknown source. Haunting letters that posed startling questions. Letters like the one that began: "Dear Mrs. Belder: ...

---

Crows Can't Count

Yet another complex whodunit starring Donald Lamb, the pint-sized detective with the "big" brain and his outsized, money-loving business partner Bertha Cool. Beginning with an innocuous inquiry into a hocked pendent, the pace picks up fairly fast wit...

---

Bedrooms Have Windows

It started as a routine tail--shadowing an oily hustler who'd been courting a well-heeled matron. But the assignment soon led Donald Lam to a sleazy hotel room with a sexy barfly. And now she's left him high and dry with a pair of corpses dumped in...

---

---

---

---

Owls Don't Blink

DYNAMITE DOUBLES FOR DEATH Roberta Fenn was a spectacular chick, and twice the woman a lot of men thought she was. The same was true of Edna Cutler. In fact, the girls had so much in common they sometimes switched names. Finding one of them w...

---

---

Gold Comes In Bricks

MIDAS GONE MAD There was the mining company that claimed to own a mother lode of gold, but whose principal activity was manufacturing death. There was the golden-haired beauty who would do anything for a price, and what she had to sell could be m...

---

All Grass Isn't Green

ALL THAT GLITTERS ISN'T GOLD. A rich man sends Donald Lam looking for a man--when he really wants to find a woman. A minor missing persons case turns out to be a major one. And a pleasure boat on pontoons serves as a smuggler's ship on wheels. ...

---

---

---

Some Slips Don't Show

THE BODY WAS FULLY CLOTHED It hadn't done much bleeding. There was a red spot over the chest, and the face had the unmistakable color of death. But there was no sign of a struggle. Donald picked up the leather key container and slipped it int...

---

---

---

---

---

---

---

Give'em the Ax

The Rimley Rendezvous was the kind of back-street bistro where a tired businessman could drop in for a pick-up, no questions asked. Deep carpets and subdued lights gave the place an air of clandestine class. And solicitous waiters catered to the ...

---

Widows Wear Weeds

DIRTY BUSINESS Blackmail was a dirty business and Donald Lam liked to stay clear of it. But for his partner, Bertha Cool, no business was too dirty to handle at the right price. And the price for this job was certainly right. What was wrong, th...

---

---

---

---

---

Spill the Jackpot

The diminutive detective and his bulldog of a boss head to Las Vegas to find a runaway bride in this hard-boiled mystery by the creator of Perry Mason.   Donald Lam and Bertha Cool make for a couple of unlikely detectives. Donald is a charming e...

---

---

---
Frequently Asked Questions (FAQ)
A.A. Fair has published 29 books.
A.A. Fair does not have a new book coming out soon. The latest book, Pass the Gravy, was published in June 2006.
The first book by A.A. Fair, The Bigger They Come, was published in January 1939.
Yes. A.A. Fair has 1 series.