One Magic Moment by Yahrah St. John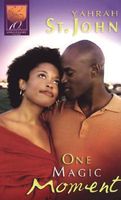 Dynamic advertising executive Nia Taylor is a tiger in the boardroom, but an ice-queen when it comes to relationships. She hasn't trusted a man since her college boyfriend dumped her. When she meets banker Damon Bradley at her company Christmas party, she's smitten...but still wary. Nia's firm is then hired by Damon's company, and the sparks start to fly. Soon, Nia's ready to take a chance on love again - until Damon's ex-fiancee enters the picture...

Damon's fallen hard for sexy, smart, auburn-haired Nia. He couldn't care less that his ex-fiancee, Kendell, has returned, begging for another chance - Nia's the only woman for him. But his upper-crust family thinks Kendell would make the perfect banker's wife. After a series of misunderstandings - helped along by his meddling family - Nia ends their relationship. By the time she realizes Damon really is the one for her, will it be too late?
what readers are saying
What do you think? Write your own comment on this book!
Write a Comment
book info
sub-genres
Historical Romance
---