Horseback Summer by Virginia Vail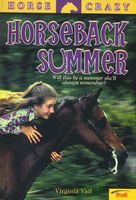 WILL EMILY FIND THE HORSE OF HER DREAMS?

Emily was looking forward to spending the summer at horse camp with her best friend, Judy. Unfortunately, Judy broke her leg two days before they were supposed to leave, so now Emily doesn't know anyone at camp.

Emily is sad at first, but she feels better after meeting Joker, the most beautiful horse in the world. She very much wants to be assigned to this horse, but another girl wants him, too. Can Emily find a way to be with Joker for the entire summer?
what readers are saying
What do you think? Write your own comment on this book!
Write a Comment
book info
age level
Kids (12 & Under) Kids: Middle Grade (8-12)
---