Devil in a Silver Room by Violet Winspear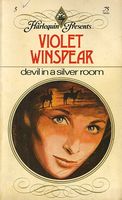 Margo Jones had loved Michel, although in the end he married someone else. When five years later he died she found herself going to the French chateau of Satancourt to look after his son. There, Margo met Paul Cassalis, Michel's inscrutable brother, to whom women were just playthings. But 'Miss Jones' was determined not to be!

"To the devil with polite phrases." Paul snarled at her again. "Tell the truth for once!"

"I always tell the truth."

"Little liar. You wanted something of Michel in Desi. Now you have something of me in that glass you hold, so tell me what you think, and don't spare my feelings or my blushes."

"If you ever blushed," and suddenly she laughed and it must have been the effect of the wine, "it must have been when you were a baby and your nurse forgot to test your bath water before putting you in it."
what readers are saying
What do you think? Write your own comment on this book!
Write a Comment
recent publishing history
Mass Market Paperback
Harlequin
ISBN:

0373100051
ISBN13:

9780373100057
---
Mass Market Paperback
Mills & Boon (UK)
ISBN:

0263714586
ISBN13:

9780263714586
---
Mass Market Paperback
Mills & Boon (UK)
Classics
ISBN:

0263732622
ISBN13:

9780263732627