Playing With Fire by Victoria Thompson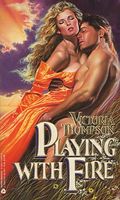 COURTING ISABEL

Though well past marrying age, innocent schoolmarm Isabel Forester arrived in Bittercreek Texas, to discover she was a prized commodity. A severe shortage of women in the rough-and-tumble frontier community had every bachelor - but one - bying for her affections. The lone holdout was Eben Walker - a man of mystery, a man of scruples...and the only eligible male Isabel truly coveted.

But the virile blacksmith refused to participate in Bittercreek's spirited contest to compromise the headstrong spinster. For how could Eben hope to defeat an entire townful of devious opponents - and win the love of a perplexing, infuriating female when she would not even heed the passionate whispers of her own heart?
what readers are saying
What do you think? Write your own comment on this book!
Write a Comment
book info
time period
Nineteenth Century
American West
sub-genres
Historical Romance
---