A Werewolf in Manhattan by Vicki Lewis Thompson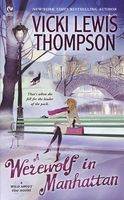 A FANTASY COME TO LIFE -- LITERALLY.

Emma Gavin writes bestselling novels about werewolves, but that doesn't mean she believes in them -- and she certainly doesn't think she'll meet one. But that's exactly what happens when her books catch the attention of a rich and powerful pack of Manhattan Weres, who have kept their existence hidden for centuries. Alarmed by the accuracy of her novels, they're determined to find out if a renegade is acting as her informant.

Aidan Wallace, the pack leader's son and heir, knows he's the wolf for the job, but when he gets close to Emma, they are both surprised by an attraction too strong to deny. To surrender to it, Aidan will have to risk everything--- including the security of the pack he's sworn to protect...
what readers are saying
What do you think? Write your own comment on this book!
Write a Comment
book info
sub-genres
Paranormal Romance
people / creatures
Werewolves / Shapeshifters
---