Lady of Fire by Valerie Vayle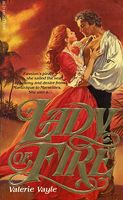 ROQUE MADE HER A WOMAN - AND A PIRATE, LIKE HIMSELF: FEARLESS, SHAMELESS, PROUD...

Garlanda Cheney's past vanished in the churning waters of the Caribbean. Martinique and the convent school were behind her. And so was the enchanted island where two shipwrecked lovers had clung together for life - and discovered love.

Now there was only a dream and a mission: to uncover the true cause of her father's death. From London society to the decadent French court, from a Turkish harem to escape and rebellion on the high seas, Garlanda's course was charted for dangerous adventure.

A passionate pirate of the heart, no man could resist or forget her. But it was Roque, the bold buccaneer who possessed her soul, whose fate was eternally bound to the...LADY OF FIRE.
what readers are saying
What do you think? Write your own comment on this book!
Write a Comment
book info
time period
European Renaissance
sub-genres
Historical Romance
---