When Somebody Needs You by Trisha Alexander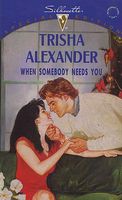 It had to be Elise. The beautiful young Cajun woman standing in the rainswept New Orleans street simply had to be the key to the dark mystery that had brought journalist Jack Forrester all the way from Texas. And whatever Desiree Cantrelle said - and whoever she claimed to be - he wasn't leaving until he knew the truth about her.

And so he followed her, down a tangled path that led deep into the heart of Louisiana's bayou country - and deep into the past. And there, in a world that could not have been more different from his own, he found something beyond the simple truth. He found a woman he wanted as he had never wanted anything, a woman who brought light into his shadowed life...
what readers are saying
What do you think? Write your own comment on this book!
Write a Comment
recent publishing history
First Edition
Mass Market Paperback
Silhouette
ISBN:

0373097840
ISBN13:

9780373097845
---
Mass Market Paperback
Mills & Boon (UK)
ISBN:

0373587791
ISBN13:

9780373587797