Sisterhood of the Blue Storm by Tom Arden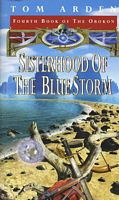 In a time lost in legend, the Isles of Wenaya were united in worship of Javander, goddess of the seas. From her fantastical palace beneath the waves, Javander presided over a caste of priestesses, linked in a thrumming psychic web. Then the web was broken, Javander's people turned to false gods and the priestesses who once served her so well became the evil Sisterhood of the Blue Storm.

Ten boys on the cusp of adulthood arrive on the empty tropical island of Xaro to undergo their Manhood Trial, an age-old ritual meant to build character as they leave childhood behind. They thought they could survive alone. But that was before the killing began. That was before the Blue Storm.

To this island of dark magic come Jem and his companions, pursuing their mystic quest for the long-lost crystals of the Orokon, desperate to find Javander's blue jewel before Jem's evil rival, the anti-god Toth-Vexrah, gets there. Never has the quest been so perilous.
what readers are saying
What do you think? Write your own comment on this book!
Write a Comment
book info
published
Dec-2000 (hardcover)
genres
Speculative Fiction
sub-genres
Science Fiction
---