Daddy on Board by Terry Essig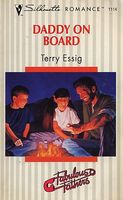 Temporary togetherness...

Lenore Pettit would do anything for her little boy. But a cross-country trip with her boss, Paul McDaniels? No way! Paul was too much like her ex-too stubborn, too strong ...and too handsome! Spending her days--and nights--with him, just like a real family, , was hardly Lenore's idea of a vacation!

Forever a family?

Paul McDaniels thought a cross-country trip was a great idea--fun for their kids, and a way to repay Lenore's kindness to his little girl. But Lenore had gotten under his skin in a way no other woman had, and soon Paul wouldn't be satisfied until this lovely, stubborn woman was his traveling companion ...for life!

FABULOUS FATHERS: He's more than a man, cow he's a Fabulous Father!
what readers are saying
What do you think? Write your own comment on this book!
Write a Comment
book info
sub-genres
Contemporary Romance
---