Pet Peeves by Taylor McCafferty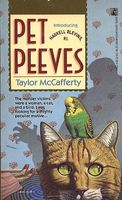 In Pigeon Fork, Kentucky, it's not easy to be a hard-boiled detective...

Being as how my office is over my brother Elmo's drug store, it's kind of tough getting the right private-eye atmosphere. Fact is, since I'd left Louisville homicide four months ago, my biggest case was the mystery of the stolen feed sacks.

But things sure got interesting quick when Cordelia Turley sashayed up my stairs and hired me to find out who killed her old Grammy. Not to mention Grammy's cat and a parakeet named Sweety-bird. For one thing, Cordelia was real pretty--a Pigeon Fork 10, which was maybe a 7 or 8 anywhere else. And she was willing to pay my standard rates.

Then came the slashed tires. The threatening letters. The folks who said Cordelia's dear old Grammy was a looney, and the ones who said she was a brazen, shameless hussy. It was a real interesting case all right. But nothing Haskell Blevins, P.I., couldn't handle...
what readers are saying
What do you think? Write your own comment on this book!
Write a Comment
book info
sub-genres
Private Investigator
---