Never Say Goodbye by Suzanne Carey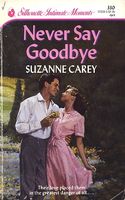 DANGEROUS DECEPTION

When American-born Kathryn Dane journeyed to Russia to find her grandfather, she never dreamed that a simple pleasure trip would become a waking nightmare. Within days of her arrival she was stripped of her citizenship, and she soon despaired of ever returning home. But then handsome Soviet agent Nikolai Dvorov came up with a plan that both shocked and stunned her....

It was a daring scheme, fraught with peril and intrigue. As Nikolai's wife, she would be above reproach. But Katya never dreamed that the attraction she felt for her husband-in-name-only would explode into a passion that would prove all too heartbreakingly real. Any moment their romantic masquerade would end--and she would have to say goodbye forever to the man she now loved with all her heart.
what readers are saying
What do you think? Write your own comment on this book!
Write a Comment
recent publishing history
First Edition
Mass Market Paperback
Silhouette
ISBN:

0373073305
ISBN13:

9780373073306