The Mystery of the Forbidden Forest by Steve Swanson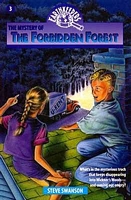 With cantankerous Old Man Wickner's history of scrapes with the law, it's a good bet that whatever is going on, it's bad. But eleven-year-old Chad and Penny couldn't have guessed just how bad it really was, of the dangers that faced their community -- especially their good friend Emma Furrow, who lives right across the road from the foreboding Wickner's Woods.

Chad and Penny are members of Earthkeepers, a club of concerned kids trying to do their part to clean up the environment. And that's just what they were doing when they ran into Old Man Wickner-looking for old metal to recycle. Trouble is, they were looking for it inhis woods.

And he doesn't want anybody looking for anything in those woods. But that's not likely to discourage Chad, Penny, and Emma. Maybe it should -- but it won't!
what readers are saying
What do you think? Write your own comment on this book!
Write a Comment
book info
themes
Inspirational / Christian
---