Hunter's Need by Shiloh Walker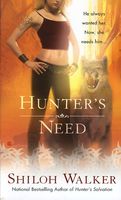 In this dazzling follow-up to Hunter's Salvation, national bestselling author Shiloh Walker tells the story of another unique hero at the heart of a terrifying world...

HIS CHALLENGE
Duke is bitter. A shape-shifter betrayed by the psychic powers of Analise Morell, he cannot forgive her for putting him in the clutches of a feral vampire, but he also can't shake his desire for her. And when she needs a Hunter, Duke must face his demons -- and hers...

HER MISSION
Desperate voices are battering Ana's psychic shields. A serial killer with extraordinary powers is about to strike again, and the tormented souls of his previous victims are screaming for her help. But Ana can't understand why they want her...

THEIR INSATIABLE DESIRE
After what she did to him, Ana is sure Duke must be using her...but so be it. Ana can't fight her longing for him or the desire that's haunted her for years. Every fiber of Duke's soul -- both the man and the cougar within -- yearns to protect and possess her...

what readers are saying
What do you think? Write your own comment on this book!
Write a Comment
book info
sub-genres
Paranormal Romance
people / creatures
Serial Killers Vampires Werewolves / Shapeshifters
---