Queen of the Nights by Sharon Pisacreta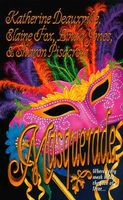 Ah Venice

In the whirling decadence of Carnival all forms of desire are unveiled. Amidst the crush of those attending the balls, filling the waterways, and traveling in the gondolas of post-Napoleonic Venice, nothing is unavailable--should one know where to look. Amongst the throngs are artists and seducers, nobles and thieves, and not all of them are what they appear. But in that frantic congress of people lurks something more than animal passion, something more than a paradise of the flesh. Love, should one seek it out, can be found within this shadowy communion of people--and as four beauties learn, all one need do is unmask it.
what readers are saying
What do you think? Write your own comment on this book!
Write a Comment
book info
time period
Nineteenth Century
Regency
sub-genres
Historical Romance
---