When Lightning Strikes by Rexanne Becnel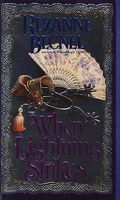 HE HAD THE SMILE OF A FALLEN ANGEL. SURE. EASY. SEDUCTIVE.

He reached down and plucked her from the thick mud, then lifted her effortlessly into his lap, setting her crosswise on the tall gray horse. He was a total stranger, who thrilled her with danger and desire. Abigail Bliss couldn't tell him her real name. Her father had insisted on an alias on their Oregon-bound wagon train. Tanner McKnight was everything her father warned her against: a bounty hunter, lawless, untamed. She couldn't know that SHE was the bounty he sought, even as she melted in his fiery embrace.

Tanner McKnight was stunned by the beautiful schoolteacher he rescued, the woman he'd been hired to bring to Chicago, to the grandfather she'd never known. Soon she'd be wealthy, beyond his reach. But he couldn't resist her, her courage and passion, even as he swept her out of another man's arms, across perilous plains to a future that could destroy them both...
what readers are saying
What do you think? Write your own comment on this book!
Write a Comment
book info
time period
Nineteenth Century
American West
sub-genres
Historical Romance
---