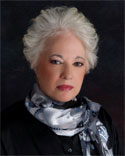 Rebecca York is a prolific writer who has over 125 books and novellas. In 2011, she received the Romance Writers of America Centennial Award for penning over 100 romance novels. She is only the twelfth author to earn this award.
Even as a child, York enjoyed creating imaginative stories of adventure, romance, and suspense. She loves to create a story of two people falling in love amid the thrilling background of a dangerous situation. She often weaves paranormal elements into her work for Harlequin.
When she's not writing, York enjoys traveling with her husband collecting rocks and inspiration for future work. She lives in Columbia, Maryland and has two grown children and two grandchildren. She also heads the Columbia Writers Workshop.