Exile's End by Rachel Lee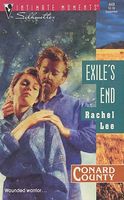 SOMEONE WAS STALKING HIM
After being held captive for four years, CIA agent Ransom Laird just wanted to enjoy the wide-open spaces and warm sunshine of Wyoming. He hadn't expected to meet a woman whose very soul touched him, warmed him-a woman he could grow old with. And now that he'd found her, he was about to lose her to an unknown assassin. Someone who wanted Ransom dead. Someone who was trying to kill Mandy to get to him ...
Writer Mandy Grant saw Ransom as a wounded warrior seeking shelter within her fortress walls and herself as the lonely princess, too frightened to love. Because for Mandy, loving meant losing. And unless they stopped the killer first, they were both going to lose....
awards
1992-93 RT Reviewers' Choice -- Series Romantic Suspense
what readers are saying
What do you think? Write your own comment on this book!
Write a Comment
book info
sub-genres
Contemporary Romance Police / Detective / FBI / Law Enforcement
themes
Kidnapping Military
people / creatures
Widow / Widower
tags
Crime, Kidnapping, Law Enforcement, Military, Older man, Widow, Writer, Wyoming
---